VACATION & TRAVEL:

By Rick Goodman
Thailand -
AO NANG to KOH LANTA, KRABI PROVINCE
© Story by Rick Goodman / Photos by Beatrice Daigneault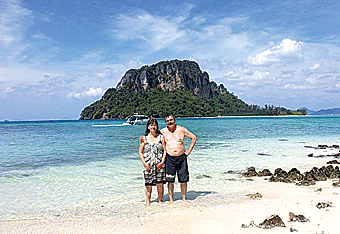 Rick and Beatrice enjoying the beach.

Traveling is usually a lot of fun. That's pretty much the idea of being a tourist or traveler. Generally I like to think of myself as a traveler, who to my way of thinking, is someone who is interested in bringing back some small understanding of the people and the life they lead in the places Bea and I go. Like any tourist you get out of your comfort zone, go and see new sights and experience new things.

But... some parts of some trips can go really, really wrong. A bad day at home is just a bad day but a bad day twelve time zones away from your regular haunts is something to remember.

We were sitting on Phra Nang beach outside of Ao Nang Krabi, Thailand when I got the sudden urge to go and see the island of Koh Lanta. It's supposed to be beautiful.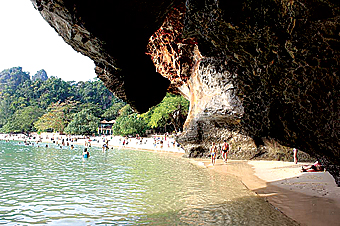 Beach cliffs at Phra Nang beach.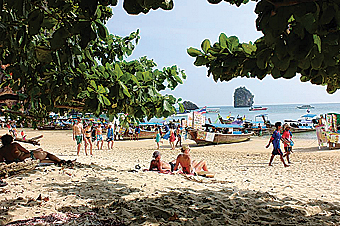 Phra Nang beach outside Ao Nang Krabi, Thailand. This is one of the limestone formations that rise out of the Andaman Sea. You can walk out to it at low tide.
There is something basically wrong with the human animal, or at least with this one. Here we were sitting on the most beautiful tropical beach we had ever seen. The water was warm and clear, cliffs towered above us, the sand was soft and the air was cool in the shade.

Whenever we felt like it we could walk down the beach to the "sandwich" or what we called the "7-11" boats and buy grilled chicken, corn on the cob, thai food and cold drinks.

These are floating fast food vendor carts - longtail boats that anchor on shore. You walk up and order, they cook it on board and you're on your way.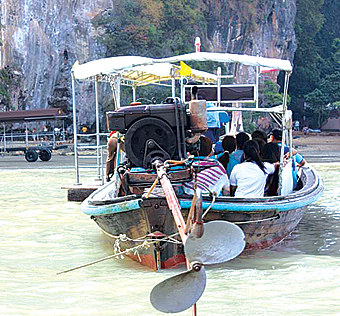 Longtail boats: These are big motors out of cars that are rigged up with a long shaft to the propeller. You steer by swinging the whole motor. A perfect setup for navigating shallow water. The throttle is a piece of rope on the steering handle. You pull the rope to go faster. In fact, these boats go pretty quick. You could water ski behind them.

I walked up to one and the lady said, "Hello."

I said, "Hello," back.

Then she asked, "What you want?"

" Two Singa beer, please."

She hollered to the back of the boat, "Two Singha," and then at me, "Give me money!"

So I hollered back, "Give me beer!"

She nearly died laughing. Not used to backtalk from farang tourists I suppose.

Or we could walk the other way, along the cliffs and watch the tourists promenade and the monkeys swing thru the trees. Too hot, dive in the water. Too cool, step into the sun.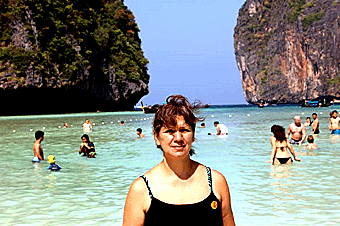 Maya Beach, where the movie " The Beach" was shot. It's close to Koh Phi Phi.

I spent a lot of time floating on my back looking up at the cliffs hanging over me. They are limestone and over time stalactites have formed and the rock itself has eroded into the most amazing shapes. There are dragon claws and anything you can imagine to be found up there.

Water drips down in places. Huge drops falling from what is probably a hundred meters. I'd float on my back and watch them coming, clear and wobbly, getting bigger and bigger, falling faster and faster the closer they got and then disappearing into the ocean beside my head. "Bloop," and they were gone. Talk about letting the inner child out for a romp.

You would think a body would be perfectly happy and content with a setup like that. Well I had read that Koh Lanta was supposed to be beautiful as well, so that night Bea and I found a place to stay online and had the lady in our guesthouse organize a minivan to take us to our new temporary home.

This is where my continuing education in the finer points of advertising got started.

One thing, us North Americans learn to appreciate here in the tropics is air conditioning. The lady at the desk said, "You go by van, air conditioning, and driver take you to guesthouse. Maybe two hours. You go ferry, you pay extra for taxi to guesthouse. No air conditioning."

Well, sign me up for the van then. How bad can it be?

This is what happened, for true, and I am not exaggerating. That kind of thing just isn't in me.

Apparently vans being advertised as being air conditioned fall into three basic categories here. Those that have air conditioning, those that used to have it, and those that might have had air sometime in the past and hope to have air again at some unknown point in the future. We got a van that used to have air conditioning. It was 27° C in the shade and with the humidity it felt like 38° C.

We were the first people on the van and after the driver loaded us up he drove around Krabi three times picking up other people. This took an hour and a half. One of the people he picked up had been out the night before and was in no shape to travel. I took one look at him, said to myself, "It's just a matter of time before we find out what this fella had for breakfast." Quite a lot as it turned out. Just another helping of misery the other fifteen of us crammed in that rolling hellhole had to endure.

After we were full of people this guy drove us around town some more, picking up bundles of newspaper.

That done, it was time to hit the open road. Nobody drives as crazy as commercial traffic. Time is money so get them to the other end and get rid of them as quick as you can is how they operate here. Unless of course the driver is running a paper route at the same time.

Nobody paces themselves, it's all acceleration and braking, weaving thru traffic with the van straddling the center line on a two lane highway so the driver can pass on either side. Oncoming lane or shoulder, it doesn't matter. Honk, honk, hang on boys and girls, coming thru.

The horn goes steady. It might mean, "Want a ride?" Or, "Get out of the way," or, "You are a dumb ass," or even," Gee Mom, look at me go!"

For passing you don't need enough room to get back in your own lane, you just need to be ahead by a nose when you crank the wheel back to where you should be. Nobody likes a flaming wreck so people will use their brakes to get out of the way. Usually.

There are speed limits posted on the road. As near as I could figure out by direct observation, commercial traffic takes the highest posted number and then multiplies this by a factor of at least two. This will be your minimum suggested speed and you must try to never go slower than this unless all the wheels come off the van at the same time.

Sitting in the back of one of these hope-to-be air conditioned minivans, braking and accelerating, lurching side-to-side thru traffic, up hills and around curves, party-boy beside me turning more colors than a chameleon, gave a sensation of real speed. But I seriously doubt we were doing any more then two or three hundred kilometers an hour.

After about four hours of cramped misery we arrived in Koh Lanta. Our party boy celebrated by upchucking everything but his rectum and then rolling out of the van in a fetal position. Why oh why couldn't he have reversed the order of events?

Now maybe it's just me, but don't you think that if you were a minivan driver with fifteen hot disgruntled passengers on board the first thing you would want to do is get them to their various destinations, try and smile, and wish them well? At this point it wasn't about service and good business practice, it was the humane thing to do. Well, this son of a *@#%!* drove us all over the place delivering newspapers. And then he stopped on the main highway, looked at Bea and me and said, "Get out!" Then he pointed at a sign that pointed down a long dusty road with Lanta Riviera Resort on it. Dumping our luggage, he left us standing on the side of the highway in a cloud of dust and burning rubber.

And that's how we arrived at the resort. On foot. With a backpack, a front pack, a belly pack, a camera pack, a beach mat, snorkel, diving mask, flippers, a laptop, eight notebooks and a left sandal soggy with vomit, a parting gift from party-boy.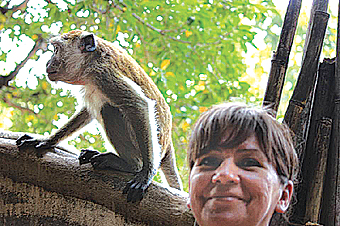 The monkey is oblivious to Beatrice's presence.

We saddled up with all that stuff and headed down that long dusty trail in the hottest part of the day, past a steaming heap of garbage, fourteen cats, a dog with mange and a monkey abusing himself in a tree. I stumbled and weaved along, panting and surrounded by flies, Bea moving grimly ahead of me cursing that driver with diligent and grim enthusiasm. By the time we made it to reception we looked like a couple of the last survivors of the Bataan Death March. Except not as frisky.

PART TWO - FEB 5/14 ISSUE

At reception they said, "You pay now!" So I did and a man showed us to our bungalow. This was part two of my continuing education in the fine points of advertising. The man opened the door, walked in throwing the key on the bed elbowed us out of the way as we were trying to hump our stuff into the room. I could see his point. The evil raw funk that came rushing out at us nearly knocked us to our knees. Paint was peeling off the walls and the bed looked and felt like it had been worn out and left for trash out behind a bordello... There was NO AIR CONDITIONING!

Out I went to reception and said, "There is no air conditioning, you advertised air, I WANT AIR!"

They said, No refund, air extra, you pay now."

I said, "You ##@&&*##," under my breath, smiled and politely inquired, "How much extra?"

To which he replied with a straight face, "1800 baht. A night." And took three smart steps backward.

Thailand is known as the land of smiles. Nobody was smiling when I took off my soggy left sandal and started waving it around. We settled on 1000 baht a night extra and were given a room with air and a good bed. The closet doors had been kicked off the rails at some time in the past and leaned in a corner. There were more flying, biting bugs than our lone house-gecko could handle and I could pass water faster than the shower could. At my age that's quite an accomplishment.

Other than that the room was perfect.

Which brings us to part three of my continuing education in the fine points of advertising. The resort brochure said," RIGHT ON KLONG KHON BEACH!!!" Anybody reading that would be glad they finally had an opportunity to experience something like that. What better than a dip in the warm clear waters of the Andaman Sea after the journey we had just endured? We put on our swimming duds and headed out to find... a swatch of gravel surrounded by jagged rock as far as the eye could see. A couple of people were trying to make the most of it and had fought their way out about a hundred meters. It looked like they were up to their necks until one stood up. Wet to the knees.

A herd of cows wandered by but didn't stick around. They were just out to show the kids what slumming looked like. We followed them the next day and found a good beach.

Don't get me wrong, Koh Lanta is a pretty island but the really good stuff is offshore. It's a great spot for diving and snorkeling. Pretty as it is though, we found Ao Nang, Railay, and Phra Nang to be much nicer beaches.

Any journey is what you make it though. On this one we met a tuk tuk driver by the name of Mr. Konee. He took us around for a good price and showed us the sights without a hard sales pitch for anything. His English was pretty good and he liked to talk, so it turned out he was a wealth of information. We talked about pensions. "Not good," he said, "At age 60 the King pays you 500 baht a month and my power bill for a fridge, fan and T.V. is 700 baht. You work, work always like this. And he stood up, bent over holding his back and laughed.

A major tsunami had hit here in 2004. Around 20 people were killed and a lot of beach front property was damaged and destroyed. At the time I'd watched the news and never dreamt I would stand in a resort beach front bar where some of the video had been shot. It was the strangest thing. People had stood in the bar watching the ocean. Suddenly it stood up and started rolling in bigger and faster the closer it got. People were quiet, an awed silence hung over the place. Then you could hear a few nervous comments until suddenly everyone realized that this thing wasn't going to stop at the bar steps. This thing was big and it was not stopping. Getting over-charged for air conditioning was going to be the least of this day's problems. And when that became perfectly clear to everyone the whole thing came undone. There was running. There was screaming. Video cameras were left on as people sprinted up the path between the bungalows trying to get out of the way of this thing that wanted to roll over them. There was a quick shot of a dog, tail between his legs sprinting thru the crowd and he was definitely not man's best friend that day. He was in it strictly for himself and that was THAT. It looked like he had no plans of stopping until he reached the mountaintop.

That's as personal as it got at the time. You watch, you feel bad for the victims, glad for the survivors but it doesn't really touch you. Mostly, if you're honest with yourself, there's the thought in the background, "Boy, I'm glad I wasn't there." Mr. Konee personalized it for us. "I like Canadians," he said. I used to fish, 4000 baht, 5000 baht every day. Tsunami, boat gone, all gone, no more."

This is a country where they don't use insurance as near as I can figure. Or if they do, it doesn't cover big waves rising up out of the ocean to flush everything you ever worked for out to sea.

The upshot was, he said, that a Canadian gave him a small stake to get started again - with that and with small loans from friends, ["1000 baht, 2000 baht, here, here, I pay back. I pay back here, I pay back here."]. He bought himself a small motorcycle tuk tuk and now makes a living driving tourists around.

Now, I doubt that he would make more than 1500 baht on a very good day in high season. You have to keep in mind that high season is just four months long and for the rest of the year pickings are probably pretty slim. He's no doubt getting by but he is certainly not getting rich.

There are worse ways to make a living though. In Bangkok the minimum wage is supposed to be around 175 baht but employers bring workers in from northern Thailand or even Laos and Cambodia and pay them considerably less. The guesthouse we had been staying at was undergoing expansion and the owner had bought some under-the-table construction guys in. These guys and their families lived in three walled tin huts right on the site. They shoveled sand and tied rebar and worked with cement bare-handed and in sandals for 300 baht a day. The owner supplied the huts for free.

On fishing he said," Work, work, save money, maybe fish." Then he went on to add that he had spent five years looking for a good wife and now he had a family. Babies and wives are expensive he said. "More work," and then he laughed.

They have a rig for smoking here that's kind of like a cigarette. It looks like a little sheet of bamboo or some other flexible kind of wood. People put a little string of dark tobacco in it, roll it up and puff away. It looks like the tobacco burns inside without taking too much of the wood with it. After Mr. Konee had fired one up I asked him, "Good?"

He replied," Cheap."

If I understood him right you can get a big bundle of 'papers' and a can of Cat brand tobacco for around 5 baht. An ordinary pack of smokes here is around 70 baht, so this is part of his austerity program to get his boat back.

He had something to say about social equality here too. We were talking family and kids when he suddenly reached out and touched Bea's arm.

"White," he said, "In Thailand very, very good. Many, many mens take care of you here. Dark like me no good."

And I guess it's true. You walk into any department store or even 7-11 and they have all sorts of skin whitening and skin lightening concoctions for sale. Local people must think the tourists are absolutely nuts to be running around sporting brand new sun burns.

It was a hot, hard and dirty trip but in the end it was worth making. I got a chance to relearn what some of the important things in life are.

Family, you do what you have to do to take care of them.
Spirit, you do it with a smile, grateful for what opportunities you have.

And friends, appreciate the ones you have and never be afraid to talk to people because you never know where you will find a new one.

Lastly, and this is important... If you ever set out on a long journey in an overheated minivan, do not sit beside a guy who is turning colors before the trip even starts. I mean it!
..................................................
Rick Goodman lives in Ile a La Crosse, Saskatchewan.
He likes to travel and can be reached at
rickgoodmansk@gmail.com.

---
Cuba - Off the Beaten Path
© Story by Rick Goodman / Photos by Beatrice Daigneault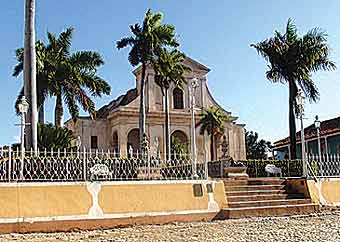 Church of theHoly Trinity in the Plaza Mayor - historic centre of Trinidad, Cuba.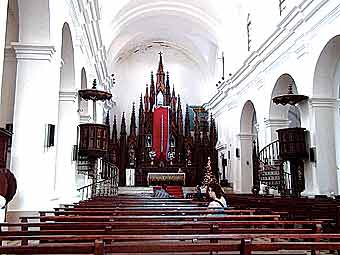 Interior of the Church of theHoly Trinity, Plaza Mayor, Trinidad, Cuba.
We did our accommodation booking thru Travelerspoint and Hostelbookers online, arrived in Varadero and were met at the airport by our casa owner. She put us in a taxi and we didn't see her again for two weeks. The taxi driver took us to a different address and that was that. This seems to be common in Cuba. The casa owner will overbook and then pass the overflow guests onto family and friends. They seem to act as a sort of booking agent for local casas. Not likely that it's free, there's probably a finders fee or a split on the client fee.

What it means to you is you may or may not be staying where you thought you were going to be and your housing may or may not be on par with what you agreed to pay when you booked your room.

I wouldn't call it an intentional rip-off, it's more just the way things work here. When it comes right down to it you're probably not paying more than $25.00/night for the room anyway.

The quality of the cooking varies too... from adequate to excellent. The going high season rate seems to be around 4.00 CUC for breakfast and 8.00 to 12.00 CUC for dinner. Count on eating a lot of fish, pork and chicken backed up by a salad and rice and beans. Lobster runs around 12.00 CUC.

Generally the pricing is the same as that in a good restaurant in town but often the food will actually be better in your casa.

We stayed in two different casas in Trinidad. It was a pleasure to leave the first one. It was advertised as having air conditioning but it didn't, in our room anyway. To be fair, it's possible they said the room had an air conditioner and let us draw our own conclusions. I really can't remember.

The water pressure was very poor, the food indifferent, and the room was not cleaned in the four days we were there.We left a couple of days early and moved to the Casa Rosa de Saron.

I cannot say enough good about this casa. For our money we had a huge bedroom, modern private bathroom, private entrance and personal balcony. Rooms were cleaned and sheets and towels were changed daily.

Tomasa and his wife Barbaro were perfect hosts and very good cooks. Their personal belief seemed to be that only too much food was enough food. Tomasa also made an excellent but lethal mohito. Bea and I had one before dinner and laughed and laughed all the way thru the meal. Something about me missing my mouth with my fork struck us as absolutely hilarious for some reason. After dinner we decided to go upstairs and serenade the pig next door. Bea wanted to go with "You Are My Sunshine," but we settled on a couple of verses of "Old MacDonald Had A Farm" instead. Hard to tell if the pig enjoyed it but the neighbours gave us a round of applause. Early to bed that night.

We also had the use of a patio and a sun roof so we could always find a comfortable spot to sit and watch the light change on the Sierra del Escambrays off in the distance.

Bea and I have very little Spanish and most people here have very little English but it doesn't seem to matter. We used a little phrase book and managed to get by. If you ever really, really need someone who speaks English someone will show up. That's just the way it is.

We'd been wandering around Trinidad for a week and had started to get a feel for the place.

The first night we were there one of the street hustlers took me to buy cigars. What happens is cigar bands are either stolen from the factory or counterfeited and inferior cigars are fitted with these bands and sold out of back rooms to tourists. We were taken to somebody's bedroom where a man was busy unpacking cigars from plain white plastic bags and repacking them in the appropriate wooden boxes. They will sell you a supposed premium box valued at maybe $300.00 for around $30.00. There are enough gullable tourists around to make the scam worthwhile.

Another man wanted us to celebrate New Year's with him in his home. Of course we would have to buy a meal and drinks.

Now every time we met them on the street it was "Hola Amigo," and handshakes and high fives all around. They never made a cent off of us but we all enjoyed knowing that they knew that we knew what they were up to and laughing about it with them.

There were a multitude of one-horse carts going about town hauling people and produce. You could hear them coming up the street shouting their wares. Mostly fruit and vegetables. On New Year's Eve, however, there was a cart with a whole dismembered pig for sale downtown. We walked past it several times during the day and watched it slowly disappear down to head at one end and a tail at the other, with a long greasy spot in between.

People also came by on bikes and bicycle carts selling bread and produce as well.

We decided to feed ourselves lunch so we started looking in the shops (Tiendas). We found a shop that had big rolls of processed ham for sale so we bought 2.00 CUC's worth. We had enough ham for around three days. Cold beer was 1.00 CUC a bottle.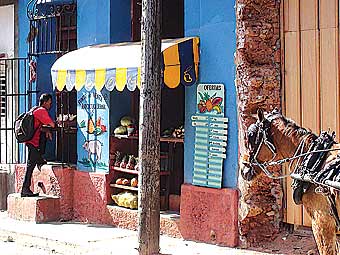 Cuba market
I should make a quick note about money here. There are two currencies, the CUC or convertable peso and the national peso. A CUC is worth around $1.00 Canadian and there are 25 national pesos in a CUC. This makes a national peso worth roughly 4 cents Canadian. Its a good idea to learn the difference between a CUC and a national peso. For one thing you won't have a lot of use for national pesos, and more importantly you can find yourself getting seriously short-changed if you can't tell the difference. Some people on the street will try and trade you straight across national pesos for CUCs. Or offer to exchange money and give you national pesos instead of CUCs. Back to lunch.

So far we had 4.00 CUC invested in lunch. Next we went looking for vegetables and found 6 vine ripe tomatoes and a bunch of onions for 30 national pesos. Farther down the street we found a bakery and bought a fresh loaf of bread for 3 national pesos. There you have it, we had more ham then we knew what to do with, cold beer and good sandwiches for 5.32 CUC.

Truly a lifestyle to enjoy. We'd breakfast and then walk around town enjoying the sights and making our small purchases. Then we'd retire to our casa for lunch and a siesta during the heat of the day. After the evening meal we'd wander about town some more. Possibly head up to the Plaza Major to listen to live music and enjoy the dancing. If we found the pace too hectic and a change was needed we'd head to the beach and relax between swims under the shade of cabanas or mango trees.
I've mentioned casa particulars so I should take a little time to explain what they are. There are two ways to enjoy Cuba... the all inclusive package... where you are sequestered from the general Cuban population. The only interaction you will have with the people will be with hotel staff. Tours and day trips are for sale as well.

Casa particulars, on the other hand, are private homes that purchase a licence from the government and are entitled to rent out up to two bedrooms. They are a sort of bed and breakfast. High season rates range between $20.00 and $35.00 per night for the room. They may charge more if there are more than two people in the room. Breakfast may be included in the price but you are more likely to pay around 4.00 CUC for a very substantial morning meal. If the food is good, and it is where you are staying, you will get a very good dinner for between 8.00 and 12.00 CUC. Any of the popular tourist areas will have casas in abundance. We booked ours through Travelerspoint on the internet but their listing is by no means comprehensive.

The casa experience is great if you want to travel around the country or if you want to stay put for more than a week. It's very affordable and gives you a chance to settle into a neighborhood and watch life around you.

It's January and here in Trinidad, Cuba it's 30 degrees Celsius. I'm
sitting on a patio in the shade of a mango tree listening to the bread and produce sellers shout their wares as they go by on the street. Cuban music is coming from the street in front of me and a radio behind me is broadcasting a baseball game. The pig next door lets out an occasional grunt during his siesta and the roosters find it too hot to crow.

It's beautiful here, palm trees, atmosphere, architecture hundreds of years old, but make no mistake, it is a third world country. The streets can be gritty, garbage is hauled away by tractors pulling trailers. People keep pigs and chickens at the back of their casas. Horse carts may be ecologically friendly but they do leave a certain residue behind, no pun intended. Lots of small dogs wander around the streets. There are odors and there are flies. After a while you don't even notice.

One thing about Cuba is how dark the streets are after dark. There are virtually no street lights. Street signs are on the sides of buildings and you often need a flashlight to read them. It's strange, but we've never been uncomfortable walking down these streets at night. There are some parts of town we wouldn't go to but there doesn't seem to be a problem on the tourist routes. In North America I wouldn't walk a street that dark even if I had a police escort and a shotgun.

Shopping is a hit or miss affair here. The shops sell what they can get but there are a lot of bare shelves. Bea looked all over town for a box of potato chips. Items we take for granted may or may not be available so you try and plan ahead and buy anything that's available if you think you're going to need it.

There's no shortage of tourist stuff to buy here in Trinidad, however. Small shops and street vendors display art, ceramics, and textiles. Bartering is expected and a part of the shopping experience enjoyed by both parties. This is how the people eat, so I never try to drive too hard a bargain.

Cuba is famous for its vintage North American automobiles. Lots of Fords and Chevys from the 1950's. Some are privately owned, a lot are taxis. All are buffed and polished, and maintained as best they can with what parts are available.

Most have been converted to diesel engines, with mixed and matched drive trains and such. People cobble them together however they can just to keep them rolling. I've yet to ride in one that has a working speedometer. Or any other functioning dash gauge for that matter.

Not that you need a speedometer. You're too busy trying to hold it on the road to waste time checking how fast you're going.

Getting around Cuba isn't difficult. The bigger towns have regional airports and airfares are not bad.

Most tourists travel by bus however. The national tourist bus line, Viazul runs clean, air conditioned buses, and fares are cheap. The 300 km from Varadero to Trinidad will cost you 20.00 CUC.

If you dare you could try traveling the way the Cubans do. Intercity transport might be a beat up old chicken bus or even a flat bed truck with standing room only. Traveling this way you would probably make the same trip for around 3.00 CUC. But I wouldn't recommend it. Your trip would be hot, dusty and slow. A bathroom break at a local would probably be a traumatic experience for the first timer and an event not for the faint of heart even for the experienced.

Never, never leave home without toilet paper. Never. Just don't do it. I mean it.

Taxis hang out at bus stations offering rides to wherever you're going. The driver will always quote high so don't be afraid to bargain. And be prepared for a ride that can range from comfortable to terrifying.
CROSSING CUBA AT THE SPEED OF LIGHT

We stayed in a little city called Matanzas overnight and had to get to Varadero to catch a Viazul bus to Trinidad. A taxi driver offered us a good fare so we took him up on it. It was either that or hang around the Matanzas bus station for two hours. The Matanzas bus station looks like a bombed wreck, but without the charm or ambiance.

We arrived in Varadero alive. Esteban, our driver, tipped me three national pesos, (I have no idea why) and handed us over to another taxi driver outside the bus station. This fellow made his pitch and it turned out that for 10.00 CUC a head more than bus fare we could enjoy a private car ride across the island and leave immediately.

We took him up on it. Esteban transferred our bags, shook my hand and wished me, "Good Luck."

That should have told me something. It didn't. Too late.

Our taxi turned out to be a 4-door Volkswagen hybrid something or other of unknown age. It had not been new for a very long time and had survived a series of modifications and retrofits. The seatbelts had been removed to save weight. So had all the tread on the tires. Also the inside door handles. I think these had been removed so you would stay seated all the way to the site of the crash and not distract the driver by trying to jump out.

The rear view mirrors were gone because this is Cuba and what's behind you doesn't matter any more. You've already passed it.

As I understand it, here's a few of the traffic laws in this country... If it's moving away from you, pass it. If it's coming toward you bully it out of the way. If it's just standing around, (like cows and goats tend to do) make some attempt to miss it. We came to Trinidad sometimes on the right side of the road, sometimes on the left side of the road, and sometimes we just blundered along until we found the road again.

Another law seems to be... Put your trust in the Virgin Mary on your dash board and not in the brakes, because nobody seems to have any.

It turned out that our driver was an ex-starfighter pilot from the future. If we could only go fast enough he could get back. Who knew. Anyway, he took us up to velocities you wouldn't believe possible in a wreck of an old volkswagen with bald tires, no steering, no shocks and no brakes.

The horn worked. He'd push a button and the car would make a pathetic little quack, like a debutante pooting thru silk. I remember a bicycle following a horse cart going our way and a 57 Chev coming at us. Our car let out its sorry little blat and pulled for the hole in the middle. The bike went rocketing thru the ditch on one side. The Chevy took the ditch on the other side. We went thru the hole breaking wind and screaming like little girls. My foot was a blur pumping the imaginary brake petal. The horse was oblivious.

And that's how we came to Trinidad. The driver did not tip me three pesos but later that day a dog bit me.
THE PIG IS DEAD - HAPPY NEW YEAR

Trinidad is a small colonial town of about 17,000 people. Old town streets curve and wander about. Many of them are cobblestone.

They are narrow and when the sun is shining most of the pedestrian traffic moves on the shady side of the street. The rest is taken up by taxis, buses, horse carts, bicycle cabs motor cycles and dogs.

Hustlers hang out offering you cheap cigars, places to stay, places to eat or drink. There's usually a fair bit going on.

Casas are long and narrow. They face the street with stone and iron grillwork, shutters and tall wooden doors. They stand shoulder to shoulder, there are no lawns or back alleys. Or back doors for that matter. You share a wall or stone fence with your neighbors on three sides.

Casas are built around open courtyards. There will be rooms front and back of the courtyard and if it is a big casa, on the sides as well.
Out the back people often raise chickens and a pig or two. If your neighbour raises pigs he will very generously share his flies with you. You can also listen to his rooster crow for free.

The day before New Year's Eve we checked into our casa and went looking for something to eat. There are places where tourists eat and places where locals eat. We're from Canada so how were we to know. Anyway, there was a sign that said, "Ham Sandwiches," in Spanish. These folks were not used to tourist types and were thrilled to have us. They made us sit down and then rushed around finding room on the bed and enough chairs for everyone in the family to sit down and watch us eat.

They had no English and I had enough Spanish to say, "Good," and "Beer." So that got us beer to go with the sandwiches.

Somehow we got around to understanding that they were getting ready for New Year's. In Cuba this is a quiet celebration shared with family and friends. Quiet after the pig dies anyway. You can't celebrate New Year's here without pork, and getting the pork off the hoof and onto the plate is a hands-on affair.

The owner of the casa/restaurant wanted to show me his pride and joy so I followed him out the back. Nice pig, squinty eyed, fat, curly tailed, and completely clueless. My new friend drew his finger across his throat in that age old gesture that means its all going to end badly for somebody. Then he winked. The pig grunted in surprise. Apparently this was breaking news. His wife nodded her head and said, "Good." The dog took it all the wrong way and bit a chunk out of my ankle. Time to go.

I gave them 10.00 CUC for the beer, sandwiches, and experience. We said our goodbyes. The wife beat us out the door in her hurry to spend it. I like to think we made their New Year's celebration a little cheerier. The dog certainly looked satisfied.

Later that night we were having a drink in our courtyard after dinner. A pig started shrieking next door. It went on and on and on. Our host refilled my glass, smiled, and said, "Delicioso, I cook for you tomorrow. I toasted the pig's passing... Happy New Year.

PLAYA ANCON

Playa Ancon is a stretch of beach about 12 km out of Trinidad, Cuba. You can get there for around 2 pesos on the hop-on hop-off bus or 8 pesos in a taxi. There are three hotels and a marina on it. The sand is not as fine as Varadero's, but it's plenty nice enough. There are cabanas and mango trees for shade. Vendors walk up and down the beach selling snacks. You can wander over to an outdoor restaurant and get a cold beer for a peso and a good sandwich for a couple of pesos.

It's a topless beach. For some reason older European women like to promenade around in nothing but sun block and a bikini bottom. Ladies... it's just not going to work. They're not plants, they're not going to perk up no matter how much sunlight and water you give them. Ever. In automobile terms the dimmer switch is bust and your stuck on low beam. In some cases just fog lights. That's all I have to say about that. Other than their husbands run around sporting speedos under big pot bellies.

On the weekends the locals come out and party on a stretch of sand between the hotels. The place livens right up. Ma, Pa, Uncle, Aunt, Cousin, and all the kids crank up the music, break out the rum and food, and the party is on. These folks know how to have fun. They found out a long time ago that there's more to the beach than laying in the sun trying to contract a carcinoma (skin cancer).

The littlest ones break for the water and half the time get dragged back to the family homestead kicking and screaming. Then they break for the water again. The older ones promenade up and down the beach to see and be seen, like everybody that age has to do.

Everyone else is eating, drinking, and visiting around. A good Spanish conversation sounds to my ear like a fistfight is about to break out. Especially when you have to talk over that good Cuban son. The rhythms are infectious and after the rum kicks in there will be dancing.

Us Canadians and Europeans don't know diddley about beach partying. Bea and I tried Cuban style beach partying but had to quit early and nap. In my case, right from, "WHOO HOO PARTY! I LOVE EVERYBODY!!!" to face down in the sand. Disgraceful. It's the rum.

We did meet a group of Australians later that week who could give the locals a good run for their money in the partying department.

Bea and I booked a romantic sunset cruise at the marina. They put you on a big catamaran and take you out on the ocean to watch the sun sink into the sea.

Peaceful, romantic, beautiful? Nope. We got grouped with about a dozen people – the youngest one was probably around 75. They helped each other off the bus, wobbled up the gangplank, and we were off.

Bea and I were on the other side of the boat watching them sit, talking quietly amongst themselves. It was a heartwarming scene. You would never have guessed they were plotting a mutiny. We rounded the point, hit the open ocean and they made their move.

One octogenarian, moving like a ninja, kicked open a locker and broke out the rum. Another one elbowed the captain's mate out of the way and got control of the stereo. The party was on. Dancing, downright lewd dancing, drinking, bum patting. It looked like a mosh pit.

The crew, Bea and I huddled behind a barricade of life jackets. One determined old gent kept wanting Bea to dance. She fought him off with a discarded walker. It was a good fight.

After a while the sun went down, we turned around, and when we rounded the point someone turned down the stereo. Someone else kicked all the empty rum bottles into a corner and everyone found a seat. Decorum ruled, but not on the high seas.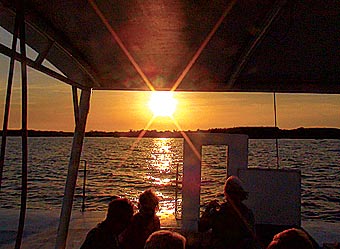 Cuba sunset.
If you've gotten this far you've reached the end of my little Cuba story. I hope it encourages you to dust off your passport and go and explore this wonderful country for yourself. If traveling around by yourself seems a little too intimidating you might try booking a package tour or even an all inclusive package just to get your feet wet, so-to-speak. Once you've gone, you're probably going to want to go back. I do.

In fact, when the time comes just pour me in a bottle and toss me in the water. I'll find my way from there. See you on the beach.

Rick Goodman lives in Ile A LA Crosse, Saskatchewan.
He likes to travel and can be reached at
rickgoodmansk@gmail.com.
---
More from December 2012:
The Red Hatters were at it again! This time in their Pajamas!

Can you imagine going out to Brunch in your PJ'S?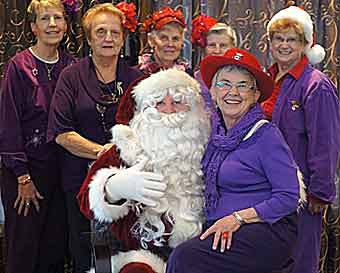 Well, that is exactly what fifty Red Hatters did on December 8, 2012 when they gathered at the Parkway Retirement Community for Queen Annabella's fifth annual Red Hat Brunch With Santa. The food was fantastic, the Ladies had a lot of FUN (there's that "F" word again!) visiting and catching up on each other's news - and as always, the Teddy Bear Beauty Pageant was a big hit with trophies for 1st place in 4 different categories.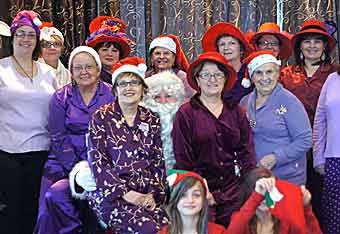 But the high light of the party was when the original Red hatter himself arrived accompanied by his two little elves (not so little now as they were 5 years ago when they came for the first Brunch.) The Elves handed out candy canes to all the Ladies and everyone got to sit on Santa's lap and tell him if they were naughty or nice. This was followed by everyone getting a small gift from under the Christmas Tree. Needless to say, everyone had a good time!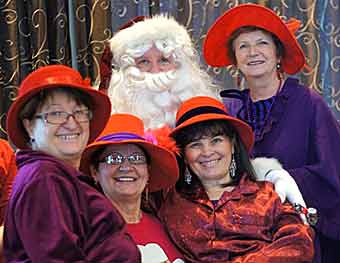 What a great way to finish off our Red Hat Year! And we are already planning for next year. Merry Christmas To All and all the Best in the New Year!

- Queen Annabella
---
SPOTLIGHT: 2013 Manitoba 55 Plus Games

TOWN OF MORRIS TO HOST 55 PLUS GAMES - JUNE 11-13, 2013: RONDEAU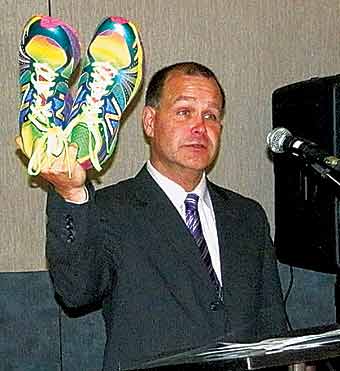 Healthy Living, Seniors and Consumer Affairs Minister Jim Rondeau promises to wear these flashy running shoes if 1000 athletes sign up for the 2013 Manitoba 55 Plus Games. Lets make it happen!
Morris has been named host for the 2013 Manitoba 55 Plus Games, to be held from June 11 to 13, Healthy Living, Seniors and Consumer Affairs Minister Jim Rondeau announced October 16th in Morris.
The evening of Oct. 16, 2012 served a dual purpose: 1) to hold an Open House for the community to meet those behind the services such as Protective Services, and Housing and Economic Development (left), and; 2) to announce the Games.

"The 55 Plus Games brings older adults together from across the province to enjoy three days of healthy competition with an emphasis on friendship and good sportsmanship," said Rondeau. "This is a very inspiring event and we are proud to support older Manitobans in staying fit, healthy and active in their senior years."

The 55 Plus Games feature a variety of events for all experience levels from those who are keen on challenging their own abilities to those who are attracted more by the social interaction the games provide. Last year's event in Arborg attracted nearly 900 participants, competing in events such as bowling, carpet bowling, contract bridge, cribbage, darts, floor curling, floor shuffleboard, golf, horseshoes, Scrabble, snooker, slo-pitch baseball, swimming, whist, track events including predicted time walks, and various arts and crafts. New events have been added including Pickleball, Nordic pole walking and cycling.

"Our goal is to host the most memorable games ever and we have a dedicated group of volunteers committed to making that happen," said Cheryl Waldner, senior services resource co-ordinator for the Morris area. "We welcome all competitors and we invite all Manitobans to join us for the games and to cheer on our participants."

"The Active Living Coalition for Older Adults in Manitoba (ALCOA-MB) is thrilled to continue as the lead provincial organization for the Manitoba 55Plus Games," said Fred Bieber, chair of ALCOA-MB. "We hope everyone involved has an opportunity to create lasting memories and make friends for life. The 55Plus Games present a wonderful opportunity to demonstrate healthy active aging for all ages and stages."

The town of Morris is a community of 1,700 people located in the centre of the Red River Valley, 30 minutes south of Winnipeg.

For more information on the 55 Plus Games, visit www.alcoamb.org or contact the ALCOA-MB official 55 Plus Games office at 204-261-9257 in Winnipeg, 1-855-261-9257 (toll-free) or by email at manitoba55plusgames@gmail.com.
Contact Karyn Heidrick if you'd like to participate in The Games: Toll Free: 1-855-261-9257 or 204-261-9257 or email manitoba55plusgames@gmail.com

Contact Angela Reid, Recreation Director of the Morris Recreation Commission, if you'd like to volunteer during The Games: 204-746-6622 or email: recreation@townofmorris.ca.