Travel feature - Walt Disney World:
Disney is Even Better Without the Grand Children
By Scott and Sally Taylor

LAKE BUENA VISTA, Fla. – So you've been to Florida's Walt Disney World with the kids and the grand kids and you loved it. You loved it because it was fun and because there is nothing better on this earth than seeing your grand kids with great big smiles on their faces.

Well, fellow 60-plussers, guess what? A trip to Walt Disney World (WDW) can be a lot more fun without the kids. Honestly. There is no better place on the planet to take a vacation for so many reasons. In fact, there are so many great reasons to go to WDW that there isn't enough space here in Senior Scope to list them all.

But, just for chuckles, let's start with safe, convenient and economical. For older couples, a Disney vacation is a great vacation.

Now, in the time-honored tradition of full disclosure, we are Disney regulars. In fact, we are annual passholders. We've often considered taking vacations at more "adult" resorts or in big American cities (and yes, we love Washington, D.C., Boston, Phoenix, Seattle, Las Vegas, Los Angeles and Chicago), but after adding up the cost and the effort, we, more often than not, return to WDW. We love the weather, the location, the safety, the service and, most of all, the price.

Contrary to popular belief, a Disney vacation is not expensive. In fact, as a sportswriter, when I go south to cover the NHL, the NFL, the NBA, and Major League Baseball, I stay at a Disney resort for two important reasons: (1) the location, just west of Orlando on Inter-State Hwy. 4 gives me instant access to nine major league sports franchises all within 30 minutes-to-four hours by car (plus all those spring training baseball games in March) and (2) because Disney is so economical.

It's also safe. When we go to WDW, I can leave the hotel at 4 p.m. to head off to a Lightning game in Tampa or a Magic game in downtown Orlando, and Sally can go off on a Disney bus and do anything she pleases, all by herself. In fact, many of her favorite moments at Disney have happened when she's alone at Epcot or Animal Kingdom or Downtown Disney and she doesn't have a husband to drag around.

In recent years, it's become extremely easy to get to WDW now that WestJet has a direct flight and, take our word for it, it's a great flight. Of course, you can always use your airline points or Air Miles and make one easy stop along the way.

When you reach Orlando International you are arriving at one of the world's great airports. Just listen to the flight attendant's instructions and follow the signs and we guarantee, you can't miss your baggage claim or your ground transportation and when you return to the airport to head home, there are plenty of places to eat and relax before you catch your flight.

During the recent winter baseball meetings at Walt Disney World, I was talking to my old friend, Buck Martinez, the Toronto Blue Jays play-by-play announcer. Buck lives near the beach in Sarasota, Fla., but during our conversation, he said, "I was thinking why so many people were moving to the Orlando area and it's pretty simple really: No taxes, plenty to do, great weather and the best airport in the country." He's right about that.

If you have no plans to rent a car (we always do and we rent from Alamo because of the convenience of having a number of outlets on Disney property), you have two options. (1) You can wait and take Disney's Magical Express. It will pick you up at the airport and drive you to your Disney Resort for free. It could take some time, but you'll save $70. (2) If you aren't staying on Disney property or if you're just in a hurry to get settled into your resort, a taxi ride is anywhere from $60-$80 depending on where you're staying.

Disney resorts come in three price categories: value, moderate or deluxe. We love the deluxe rooms, but when you stop and think about it, if you're really planning on enjoying your Disney experience, you aren't going to spend all that much time in your room, so why spend all the dough. We usually choose the moderate resorts, but have had some great times at the value resort, Pop Century.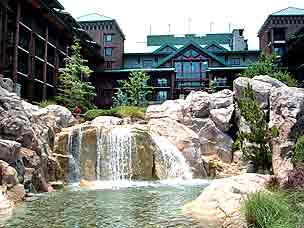 The Waterfall at Wilderness Lodge Resort.
Of course, if you haven't taken your grand kids to the parks and if you're going as first-timers, your initial question is: What do we do once we've arrived? Fear not, you have an abundance of choices.

In fact, you probably have three days of choices without even going to a theme park. There is shopping, eating, a great movie theatre and of course Cirque de Soleil's magnificent La Nouba, all at Downtown Disney. You could play four sensational 18-hole golf courses (our favorite is Lake Buena Vista) or you can walk nine holes at Oak Trail and that's always fun – and cheap, too.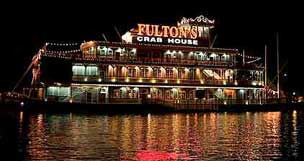 Fulton's Crab House at Downtown Disney.
If you're staying at a moderate or value resort, get on the monorail (it counts as a ride) and head over to a deluxe resort and just hang out. If we're staying at Pop Century, we often go over to the Grand Floridian for a swim and a meal. And if you have some disposable cash and a few extra friends, book a fireworks cruise. It's the best way to watch Wishes at the Magic Kingdom or Illuminations at Epcot. Or grab a spot on the beach at the Polynesian Resort and watch Wishes from across the lake. It's relaxing and very entertaining.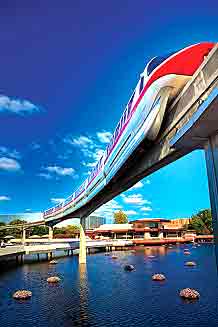 Walt Disney World Monorail.
However, let's assume you're going to WDW to take in the theme parks. You've purchased your Hopper Pass, the pass that allows you to go to all four parks on an unlimited basis, and you're ready to take on the crowds. Let's take an adult look at the four parks (we love thrill rides, but for this piece, we'll leave the thrill rides to the kids):

Hollywood Studios

Hollywood Studios is filled with attractions and shows: the Indiana Jones Epic Stunt Spectacular, the 33-minute Lights, Motors Action Extreme Stunt Show, the live stage show of Beauty and the Beast and then, at night, Fantasmic.

It's a fun theme park to walk (especially at Christmas time) but we usually don't eat here. Instead, we'll take the two-kilometer walk to Epcot, where you'll find our favorite park, the one where we eat, drink and, to be frank, spend most of our time.

Epcot

We love Epcot. It's the adults park. We love walking the 2.4-kilometre circle that's called the World Showcase. We spend more time eating at this park than we do eating at Florida restaurants. That's probably because we eat on the go and we seldom sit down to eat. It just takes too much time.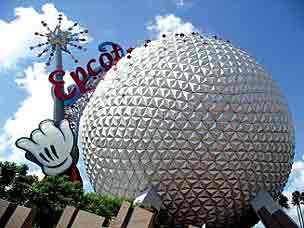 Epcot Theme Park.
Our favorite snack-and-go spots are the new La Cantina de San Angel (Mexico), the Lotus Blossom Café (China), the Yakitori House (Japan), the Boulangerie Patisserie (France) and the Yorkshire County Fish Shop (United Kingdom).

We also have two favorite times of the year to be at Epcot: From March 2-May 15, 2011, for the Flower and Garden Festival and from Sept. 30-Nov. 13, 2011 for the annual Food and Wine Festival. The Food and Wine Festival is always a highlight of any year.

We tend to justify what we eat by how much we walk.

Animal Kingdom

Animal Kingdom has the best thrill ride at all the parks, Expedition Everest, but we're not here to stand in line
waiting to lose our lunch.

Animal Kingdom is loaded with some tremendous attractions (Kilimanjaro Safaris), walking trails (the Pangani Forest Exploration Trail, Maharajah Jungle Trek and Rafiki's Planet Watch), shows (Finding Nemo – the Musical and Festival of the Lion King) and the daily parade (Mickey's Jammin' Jungle Parade).

When it comes to food, it's not our favorite park, but we enjoy snacks at the Yak and Yeti Counter Service or at Pizzafari and there is nothing better than watching people while enjoying a cold beverage at the Dawa Bar (we suggest an ice cold Safari Amber).

The Magic Kingdom

You can't escape children or families here and we find that everyone is a child at the Magic Kingdom (remember, there are no adult beverages served here), but if you want to stick to your "adult" schedule, how about avoiding the park and spending a day enjoying the Magic Kingdom Resorts?

The Grand Floridian, the Contemporary and the Polynesian are all on the monorail line that passes through the Magic Kingdom, so visit the resorts, enjoy a meal, stop in at a bar, take a dip (They do frown upon it, but who'll ever know?). You can get off the monorail and take a boat from the Grand Floridian to the Polynesian and back to the front gate of the Kingdom. You can walk from the Kingdom to the Contemporary and stop in at the Wave for a drink. Take a walk from the Polynesian to the Grand Floridian and stop in at Mizner's Lounge (open from 5 p.m. to midnight) for a little jazz, a beverage and a snack.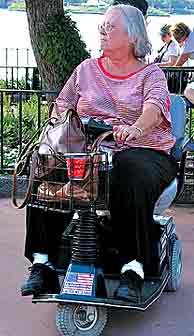 It's scooter world at Epcot.
There is so much to do at WDW without spending time at a theme park and without spending a lot of money. In fact, you can always save the cost of a couple of theme park tickets and use the money to see La Nouba, take a fireworks cruise, play some golf (mini-golf, as well) rent a boat and go fishing on Bay Lake or spend time in a spa.

Always remember this: At Walt Disney World, you're never too young and you're never too old and that means there is always something to do without the grand kids.

(Note: If you're looking for travel packages, we recommend WestJet Vacations or CAA. If you'd like that personal touch in Winnipeg, we recommend calling Constance Torossi at Enchanted Dreams Travel Company which specializes in Disney vacations, at 204-229-0296, connie@enchanteddreamstravel.com, www.enchanteddreamstravel.com)
(Read more in the Jan 20 - Feb 7/2011 issue of Senior Scope)
---
---
Backyard Birding 101

By Sherrie Versluis,
Owner of The Preferred Perch Wild Bird Specialty & Gift Store
Growing up, I was lucky enough to be able to spend my summers in the great outdoors of Lake of the Woods. It was there that my love of nature flourished into what has literally become my livelihood. The smell of the fresh green forest filled with the sights and sounds of wild birds turned me into a true nature nut. The birds left an impression that has not only stayed with me but become my job. It has now been over 15 years that my business, The Preferred Perch Wild Bird Specialty & Gift Store, has been in operation. It has been nothing short of an honour to introduce people to the 2nd biggest hobby in North America, attracting and feeding wild birds in your own backyard.

Many people who start feeding wild birds usually begin with a basic wooden feeder and wild bird mix. Unfortunately this usually results in seed spilled all over the ground and nothing more than masses of House sparrows visiting. House sparrows are the 'bad guys' of backyard birding. They not only make a mess but they dominate feeders and intimidate songbirds people want to see. House sparrows are an introduced species that has learned to adapt to life here and they do whatever it takes to succeed. Besides dominating feeders, House sparrows will break the eggs and even kill the chicks of our native birds that may be nesting in 'their' territory'. It is important to try to not attract House sparrows to your feeders but sometimes it's not possible. They tend to live in cedar trees and shrubs so if you have such housing it is unlikely they will ever go away no matter what you do.

Evening grosbeaks at a heated birdbath.
House sparrows are attracted to the seed white millet in wild bird mixes. That is why you will see them throwing seed everywhere, they are digging for what they want. To attract other birds, it is a good idea to give sparrows their own feeder at the back of the yard filled with pure white millet. Closer to your home where you can see best, place a good quality sunflower feeder filled with Black oil sunflower. This will attract Black-capped chickadees, nuthatches, bluejays, and finches to name a few. These birds can be found in Winnipeg and surrounding areas throughout the entire year. A good choice for a sunflower feeder is called a Tube Feeder. These are tall cylindrical feeders that have feeding ports from top to bottom with perches attached. This design reduces waste significantly and you don't have to fill the feeder so often. Trays are available separately to attach to the bottom which helps in keeping the ground free of shells but it also encourages other species that are too large to land on the perches.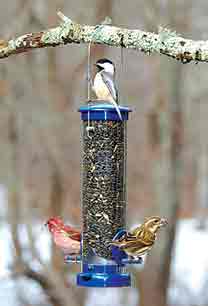 A Black-capped chickadee along with a pair of Purple finches eating from a sunflower feeder.
Feeding wild birds is a hobby that is known to reduce stress as watching the antics of bird behaviour can free your mind of negative thoughts. It is also very beneficial to those who may be homebound as it provides an easy and pleasurable source of entertainment. To me, it is rewarding in so many ways but especially when I hear from others how feeding wild birds has become a way of life for them and their family. Bring nature into your life and just feed the birds! Happy birding!

The Preferred Perch Wild Bird Specialty & Gift Store
Open 7 days a week.
Call 25-PERCH (257-3724)
1604 St. Mary's Rd • Winnipeg
(Read more in the Jan 20 - Feb 7/2011 issue of Senior Scope)
---
---
HUMOUR COLUMN:

MADS - Men Against Drunk Shopping
By Willian J. Thomas
Humour Columnist
It's the little things that tell the big story. Like that image of a little old lady on a corner waiting for a Good Samaritan to help her across the street. Well soon there will be a dozen elderly ladies on that corner kicking each other in the shins over who's first in line and the Good Samaritan, a.k.a the government, will be a "no show."

That lovely scene of two men playing checkers in the park. Soon there will be more checkerboards than benches in that park because the world's population is aging at an accelerated rate never seen before in history. The number of older people is increasing much faster than the number of young people. The Golden Girls are cancelling Sesame Street.

The elderly used to worry about being a burden to their families, now they're about to become a big problem for the planet. By 2018, 65-year-olds will outnumber those under the age of 5 for the first time ever.

This will also turn the global economy on its' head. Experts believe that maintaining a decent standard of living for the old will place a crushing financial burden on the young.

Next year the first wave of baby boomers in the United States will be eligible for full Social Security and Medicare benefits setting off a two-decade, astronomical spending spree by a government that's already in mile-high debt. So Sarah Palin's insane claim that President Obama's healthcare plan called for "euthanizing the elderly" is starting to look like a viable option somewhere down the line.

By the year 2050 there will be 300 million people over the age of 65 in China and not nearly enough toothpicks to go around. The Chinese government is passing the buck to the families. They have a name for it: "the 4-2-1 problem." That's one child caring for two parents and four grandparents. Not too much pressure on a young Kemei, circling help-wanted ads in the Shenzhen Times while riding around on a bike with a flat front tire.

To man their massive factories the Chinese government is flooding the biggest cities with young people and driving the old out of their homes. It's called "age apartheid."

All of this information is covered by the Global Again Preparedness Index compiled by a Washington think tank and when it comes to today's forecast and tomorrow's crisis – you couldn't do better than the acronym GAP.

But what will Canada do? The government of Canada, unlike those of many unprepared countries has some concrete plans in place. First, when 'Elderquake' hits home hard over the next twenty years, our government plans to act really, really surprised.

They plan to blame Stats Canada and a software program short on zeros. While claiming to have made provisions for the health and financial well-being of 1.5 million elderly, they will claim to have no idea the real number was 15 million.

"We're mad as hell," the Prime Minister will say. But not as mad as the ninety-year-olds living in their grandson's garage.

They will blame the failure of the system on the previous government, who will in turn blame it on their predecessors who will blame it on Paul Martin. Walking through Lafontaine Park in his undershorts, Paul Martin will say: "I can't recall."

Then the photo ops will begin showing that the crisis is not nearly as bad as the experts claim and the elderly of Canada, now living in an abandoned airport north of Toronto are receiving water, ration packs left over from Afghanistan and warm socks. It's called "warehousing."

Those requiring serious medical attention will be offered "Varadero, one week, all-inclusive, air, hotel, meals, bar drinks and hospital transfers."

The federal health minister, later to be reprimanded for it, will characterize the elderly as "lazy and unproductive" pointing out that "Hey, why don't they try their luck at the casinos!"

Health Canada posters and billboards will spring up extolling the virtues of the "aging initiative" showing a photo of 94-year-old Mable Spark who won ten dollars at her nursing home for guessing the number of jelly beans in a canning jar. "And," the ad will say, "she also got to keep the jelly beans."

A spry 95-year-old Julie Andrews will appear in a feel-good video extolling a few of her favorite things like: "Air bags on walkers and seatbelts on rockers."

The minister of consumer affairs will almost lose his post for buying millions of cheap canes from China made of rubber. The recall will be ugly but not without comical incidents.

In a Hail Mary move to save its skin, the government will come up with its own "4-2-1 formula." That's one care giver for every two rooms full of elderly with four minutes maximum in the bathroom, each. Do you get the feeling this government believes that this trend too will pass?

Oh, and the real bad news? We're all healthier than our parents and on track to live a lot longer.

For comments, ideas or a signed copy of
The True Story of Wainfleet,
go to www.williamthomas.ca
(Read more in the Jan 20 - Feb 7/2011 issue of Senior Scope)
---
---
FOR THE HEALTH OF IT:
Getting the Sugar OUT of your Diet
By Steven Denault

So now that we know how and why sugar is creating an epidemic of illnesses let's talk about what we should be doing about it.

Refined and synthetic sweeteners are used extensively by processed food manufactures. The main reason they include sweeteners is to give the product some taste and of course it's a cheap filler.

As consumers we have come to think of sugar as a comfort food, we expect and desire it. In fact the majority of us have become addicted to sugar and sweeteners. This is of course the intention of food manufacturers. Not unlike nicotine in cigarettes.

This is the big nasty bit of dirt they don't want us spending much time contemplating. But the fact is sugar and artificial sweeteners are now recognized as addictive as alcohol and nicotine (cigarettes).

Putting sweeteners into processed foods will ensure you get the taste and sugar craving fulfillment you are in need of. As we consumers get more clued in and able to read labels we watch labels more closely looking for how much sugar is in a product.

BUT what you don't know is new synthetic sugars (and sugar alcohols) are coming along quicker than we can keep up with. Food manufactures do list them in the ingredients but you won't recognize their names because they don't sound like a sugar. A few examples include barley malt, polysaccharides and alitame. If you would like to see a more comprehensive list check out this link: www.healingnaturallybybee.com/articles/sweetslist.php#a6, scroll down for the whole list.

Since many of these sweeteners are new few long term studies exist. However studies of older generation(aspartame) synthetic sweeteners reveals that manufactured sweeteners are hundreds of times sweeter than plain sugar and even more destructive to our health. Did I mention they are cheap and addictive.

The take home message is this: do all you can to eliminate refined and synthetic sugars from your diet. These sweeteners are causing your pancreas to over produce insulin which is in turn triggering a fat storage signal plus they elevate your blood sugar levels and can eventually lead to pre-diabetes.

Are there any natural or safer sugars? Fortunately yes.

A popular one is Stevia. It might take a bit of getting used to because this plant based sweetener is very sweet. Also look for Xylitol or Lo Han. The best place to find them is at a health food store, you'll have a much better chance of getting high quality product. Also available are natural sugars made from cane sugar and other plant sources. While these are far better than refined sugars they are still interpreted as sugar where your pancreas is concerned, so too much is not good.

Note: Food manufactures keep tabs on the health food industry and watch for trends. When they see something selling well they find a way to make it cheap and then add it to their product offering hoping you'll think it is the same high quality as found at health food stores.

Steven Denault
River Heights Good and Natural
Weight Loss Clinic
1102 Corydon Ave., Wpg.
204-415-1308
steved@goodnnaturalweightloss.com
(Read more in the Jan 20 - Feb 7/2011 issue of Senior Scope)