Spotlight feature:
Jean Holmes
Carleton Place, Ontario
Carleton Place lady celebrates 106 years young
By Desmond Devoy
Reprinted with permission from the Carleton Place/Almonte Canadian-Gazette, Ottawa region, ON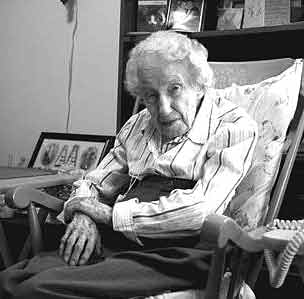 Jean Holmes
(Photo by Sam Cooley, Canadian-Gazette photographer.)
"If you want to live to the age of 106, just remember that tomorrow will take care of itself." ~ Jean Holmes
Editor's Note:
The 'Spotlight' in this issue—Jean Holmes—grew up in Manitoba, but now lives in Carleton Place, Ontario, on the west side of Ottawa. You may recall that Senior Scope featured Jean's youngest brother, Harold Casselman of Winnipeg, in the January, 2010 issue. Harold is a 60-year member of the Barbershop Harmony Society and is active with the Winnipeg Golden Chordsmen Chorus. He also sings baritone with the Generations of Sound quartet.
---
CARLETON PLACE -

That's the advice of 106-year-old Jean Holmes, who celebrated her birthday on Oct. 20. Holmes celebrated her big day with a luncheon with her fellow residents at Elizabeth Court in Carleton Place on Tuesday, Oct. 19.

"I tell them that I don't worry about the future and I don't smoke," said Holmes during an interview at her home.

"The only time I saw her with a cigarette was (when she) was lighting them up for dad when he was driving," said Holmes' daughter Jan Ferguson. "We're trying to teach her how to drink," Ferguson added with a laugh.

Holmes admits that she never thought she would live to be this old when she was a child.

"Even when I got big," she adds, she never thought she would see the century.

Even though she is glad her mother has had such a long life, Ferguson will be keeping her mother's celebrations low-key this year.

"She thinks people are tired of buying her birthday cards," joked Ferguson. It will be a low-key affair compared to her earlier centennial birthdays. When Holmes turned 100, her family took her on an Alaskan cruise, where she was dubbed "Queen Jean." Ferguson said that she has decided to keep the big parties to a minimum of once every five years for her mother, so the next big soiree will be when she turns 110.

Holmes' life has changed a lot since she was born in 1904.

"I grew up on a farm and there's always something to do," she said of her early life in rural Manitoba, the second oldest of 11 children.

Holmes was born the year after the Wright brothers took to the air with the world's first powered flight in December 1903, and the miracle of flight was still a sight to behold during her childhood.

"Well, airplanes were one thing. If you heard something going overhead, you all ran outside to see it," Holmes said.

She was only 10 years old when Canada joined other nations in what was then known as the Great War.

"I can remember quite well," she said of a young man from her village who went off to the Western Front to fight. "We had a young Englishman who went to that war. He came back safely."

Years later, when war again broke out, she was married and had children to tend to.

"I remember World War I better than the Second World War," she admitted, though she recalled that three young men from her village did go to fight.

"I know one of them didn't come back," she said.

Holmes married in 1927 in Saskatchewan, and still wears her gold wedding ring.

"It's seen a lot of dishwashers," she jokes.

Holmes did not learn how to drive until the 1970s, but she has certainly made up for lost distance since then, travelling with her family to Germany, Scotland, and the United States.

"My parents never thought of having a holiday," Holmes recalled. She returned to Manitoba for her 104th birthday, where she met many of her family.

Longevity seems to run in the family. Her sisters Aileen is 101, Jemima will be 100 in January and Eleanor will be 90 in November. Her brother Harold is the baby of the family at age 88.

Even at her age, Holmes is still mentally sharp and involved. When Holmes was born, women in Canada still could not vote. Now, at age 106, she had cast her ballot at an advance poll in last month's municipal elections.

Even though her father sat on the local school board, "we never talked election," at her home growing up, but she is certainly glad that women can now vote.

She still enjoys knitting and crocheting and baking pies and cookies for her family. She also stays healthy "just by walking around in here. I try to eat properly and get exercise."
(Read more in the Nov 9 -Nov 29/2010 issue of Senior Scope)

---
Fraud Prevention:
Online Blackmail Scams
Everyday Canadians share personal information on the internet with people they've met through virtual contact. While many of these relationships are harmless, the Canadian Anti-Fraud Call Centre is seeing a rise in online blackmail scams directly related to online sharing of information.

Blackmail scams involve victims receiving demands for money from virtual contacts that they have revealed personal information to over the Internet. The scammers will threaten to have embarrassing or damaging information, including personal details and images posted online unless they pay the fees requested.

When developing new relationships through instant messaging, social networking sites, and videoconferencing sites, you need to be aware that the personal information shared may be used against you. The question then becomes do you really know who you're dealing with and how much of your personal information is necessary for the relationship. Openly posting personal information on the Internet is synonymous to advertising the same details on a billboard in your community. Simply put, if you wouldn't advertise yourself publicly on the street then why do it online.

If you've become a victim of online blackmail you can report to the Canadian Anti-Fraud Call Centre (Phonebusters) at 1-888-495-8501.

Cst. Ben Doiron
Winnipeg RCMP
Commercial Crime Section
(Read more in the Nov 9 -Nov 29/2010 issue of Senior Scope)
---