Spotlight feature:
Joyce Collier
and Lorraine McLeod
Winnipeg, Manitoba
It's the People You Meet in a Life Devoted to Golf
By Scott Taylor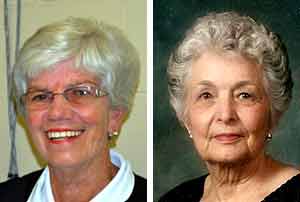 Joyce Collier and Lorraine McLeod
For Joyce Collier, golf will always be about the people. It's not about awards, or the thanks and appreciation you get from your peers. It's not about any of that stuff.

It's about watching great players, meeting them, and feeling that in some small way you helped them, just a bit, along the fairway.

For Lorraine McLeod, a life in golf means much the same. And like her friend and colleague, McLeod's memories, are of nothing but clear days, straight fairways and uninterrupted good times.

For those of us who have either covered women's golf in the media or simply been a fan of the game in this province, we all know that to some degree it simply wouldn't be a Manitoba ladies golf tournament without the presence of Joyce and Lorraine. From 1981 to today, Collier and McLeod have had a hand in so many outstanding women's events, that it's almost impossible to keep track. The latest big event, the LPGA's Canadian Ladies Open Championship at St. Charles, is a classic example.

For these two exceptional women, golf has played a major role in their lives.

"The memories I have of being involved in golf are all wonderful," said McLeod, the other day. "The greatest thing anyone can do is volunteer for golf."

McLeod started back in 1981 as a tournament chairperson at the Canoe Club. She went on to be president of Ladies Golf at the Canoe Club and became a Manitoba Ladies Golf Association tournament chairman, vice-president and, eventually, president.

She later moved from the Canoe Club to Southwood and was the chairperson of the Canadian Ladies Amateur championship at Glendale in 1991.

"That's was a year and a half of work," she recalled. "And it was a lot of fun."

Meanwhile, back in '81, Collier was already a member of the rules committee for the CLGA's national amateur championship. She started her career as golf volunteer at the Portage Golf Club, where today, the Joyce Collier Award is presented annually to the top junior golfer.

"When I present that award, it's not always for the way a young person plays," Collier said. "In fact, the winner of the award is not always the best player, but a player who brings his or her best to the game."

The same thing can be said about Collier. She always brings her best.

She, too, was president of the Manitoba Ladies Golf Association (1995, 1996 and 1997) Went on to become CLGA Director of Player Development in 1998, 99 and 2000. and was an associate governor in the Royal Canadian Golf Association (2006, 2007, 2008).

But when you talk with Collier it's obvious that two things make her very proud: her involvement with junior golf and her dedication to the Manitoba Golf Hall of Fame and Museum.

"When you volunteer your time, it's the people you meet who make it so rewarding," she said. "And what's very enjoyable is the young people you watch progress in their careers. I've known (LPGA professional) Gail Graham since she was a junior. I've watched Aileen Robertson's career and Cathy Burton's. These were all wonderful young players and it was great just to come to know them and play a small part in what they were able to accomplish."

Both Collier and McLeod have been major contributors to the Manitoba Golf Hall of Fame and Museum. Collier was President of the Hall from 2003-2006 and she asked her friend Lorraine to get involved back in '03. And while McLeod left Hall of Fame board in 2008, Collier has continued on as Past President and Chair of the annual induction event.

"If it wasn't for Joyce the Hall of Fame would never have happened," said McLeod bluntly. "She's such a wonderful organizer. I enjoyed being on the board, but Joyce was the heart and soul of the Hall. And she's so behind this year's induction. It's hard to say enough about what she's done to make the Hall of Fame the success that it is."

This year's Hall of Fame inductees were four of the most visible stars in Manitoba golf -- four people whose inclusion in the Hall are beyond question:

Bob Picken, Builder

For more than 60 years, Bob Picken has been the voice of golf on radio and TV in Manitoba. He has also been an active contributor to the Manitoba Golf Hall of Fame, has served as chair of the selection committee for the Manitoba Amateur Golfer of the Year award since its inception in1975 and been a director of the Grey Owl golf tournament since 1979.

Rob McMillan, Athlete

One of the greatest players in the annals of Manitoba golf, McMillan made history as the first young man ever to win the Canadian Juvenile and Junior Championships in the same year. His three Canadian Junior titles tied for the most ever won. He won the 1996 Manitoba Open as an amateur, then added the Canadian Amateur title in the same season. He won the Provincial Junior Championship for four straight years (1991 through 1994) and added the Provincial Amateur title in 1993. He won the amateur again in 1995 and 1996 and played on four provincial junior teams, on two Manitoba Willingdon Cup teams and represented Canada twice at the World Amateur Championships. He was chosen Golfer of the Year in 1990, was a finalist in 1991 and won the honour again every year from 1992 to 1996.

Terry Hashimoto, Athlete

Hashimoto was a remarkable player between 1976 and 1998. He was named Manitoba Amateur Golfer of the Year three times and was a finalist five more times during that period. He represented Manitoba in team play 10 times – as a junior in 1976 and then eight times on the province's Willingdon Cup teams (1977, '79, '80, '81, '83, '85,'96 and '98). He also played on one Mid-Amateur team in 1998. He won the Manitoba Amateur Championship twice (1985 and 1998), the Manitoba Match Play Championship three times (1983, 1985 and 1998), the Manitoba Mid-Amateur Championship in 1998 and was low amateur in the Manitoba Open Championship twice (1979 and 1980). In 1998, he was a triple champion, taking home the amateur, mid-amateur and match play titles. He was Manitoba Golfer of the Year in 1976, 1980 and 1998.

Aileen Robertson, Athlete

Between 1986 and 1996, a time when there were many top female players in Manitoba, Ailleen Robertson was one of the best. She was the Provincial Junior Champ in 1986 and 1987 and won the Manitoba Ladies Amateur in 1989-90-91-94-95-96. She won a Canadian Championship in 1994 and was also declared Manitoba Amateur Golfer of the Year along with Rob McMillan. She was a finalist for the Golfer of the Year honours twice, in 1989 and 1991, and was a nominee for Manitoba Female Athlete of the Year twice, 1992 and 1994. She also won the Ontario Women's Amateur title and was named Score Magazine's Female Amateur of the Year in 1994.

Robertson represented the province on Manitoba golf teams for 13 straight years, as a junior from 1984-87 and on nine consecutive amateur teams from 1988 through 1996. She represented Canada seven times at international events including the World Amateur, British Amateur, Australian Amateur, New Zealand Amateur, Mexican Amateur and Commonwealth Championship.

The accomplishments of these great players and one builder, make Collier proud. In fact, they make her prouder than even her own accomplishments.

"With a Hall of Fame, the one thing you never want to do is lower the bar," Collier said. "With the induction of these four people, we have maintained the level of excellence."

"Golf is a wonderful sport. One day you start out as a junior and years later, you end up in the Hall of Fame. We've been so fortunate in Manitoba to have had so many wonderful players and wonderful people involved in our game.

"But golf in Manitoba is really about all the volunteers. Aihlin Walker and Peggy Colonello were wonderful volunteers for golf. I worked with Lorraine (McLeod) for years. In fact, it was Lorraine who encouraged me to go national.

"If not for volunteers, the players wouldn't have the tournaments to play in. Without volunteers, golf wouldn't be the great game that it is." McLeod would certainly agree with that.

"In 2003, my husband Angus and my daughter Heather and I went to Scotland to play the Old Course," Lorraine recalled fondly. "We never would have done that together without my having been involved with golf as a volunteer. And, you know, it was the best thing that ever could have happened to us.

"It's been a wonderful life with golf."
(Read more in the Oct 19 -Nov 8/2010 issue of Senior Scope)

---