Spotlight feature:
Curt Keilback:
Hall of Fame Broadcaster
Keen on NHL's Return
Winnipeg, Manitoba
By Scott Taylor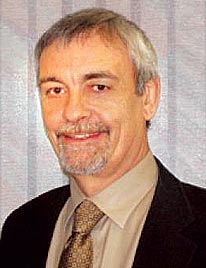 Owen Clark - long-time jazz musician, composer/arranger, historian, author, radio announcer...
For more than 30 years, Curt Keilback has been known to his close friends as "Sod." But even though he's from Yorkton, Sask., the former Voice of the Winnipeg Jets doesn't look much
like a "Sod."

Unless, of course, you know the story.
It was a lovely day in Atlanta, a November morning in 1980, when the Winnipeg Jets were about to return home after playing the old Atlanta Flames at the Omni in Atlanta, Ga.

As the players were boarding the airplane, someone mentioned that the team's newly hired play-by-play announcer, Curt Keilback, was no where to be found.

The late Friar Nicholson, Keilback's boss at the time, asked the team if it would request that the pilots to hold the plane for just a moment. Nicholson had seen Keilback in the airport and wondered what happened to him.

After a brief search, Nicholson found his 31-year-old charge and got him onto the flight amid laughter and derision from the Jets players, the team's management and other members of the media.

"For a boy from Yorkton, Atlanta had an awful big airport," Keilback recalled with a laugh. "I got lost. Simple as that. When they found me and got me on the plane, I took a real beating from the players and the other media guys. Patty Doyle – who has since had a sex change and become Patti Dawn Swanson – called me 'Just a big sodbuster from Saskatchewan.' The name was shortened to Sod and it stuck. Everybody started calling me Sod."

Earlier this month, Old Soddy was informed that he had been elected to the Manitoba Hockey Hall of Fame. He and a large group of the province's greatest players, builders, teams and media members, plus one official, will be formally inducted into the Hall at the annual dinner on Oct. 1.

Keilback will enter the Hall with players Mike Keane, Theoren Fleury, Terry Ball, Jayson More, George Konik, Neil Wilkinson and goalie Karl Friesen. The builders are Bob Cornell and Glen Lawson from Brandon and Ted Foreman from Winnipeg. Female official Laura (Venderhorst) Loeppky along with radio broadcaster Bob Picken will also enter the Hall along with the 1955-56 Edinburgh Cup champion Winnipeg Warriors, the 1974 Hardy Cup champion Warroad Lakers, the 1983 Hardy Cup champion North End Flyers and the 1994-96 Allan Cup champion Warroad Lakers.

It will be a great party and Keilback, now 62, can hardly wait.

"I have so many great memories as a broadcaster it's hard to put my finger on just one of the them," Keilback said. "It was great to be part of Teemu Selanne's rookie season when he scored 76 goals. It was great to be part of that 1984-85 Jets team that really had a chance to go a long way, but just couldn't get past the Edmonton Oilers. I guess maybe my best memory was that day in 1979 when I got a call from Friar (Nicholson) asking me if I'd like to leave Yorkton and come and call the Jets' games in Winnipeg.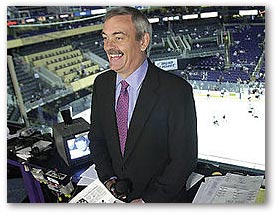 Curt Keilback
"Of course, it was pretty nice getting that call last week telling me I was going into the Hall of Fame. That's a nice memory, too." Curt Keilback, who was born in Brandon and raised in Yorkton, followed his father into broadcasting. His dad, Jim, gave him his first radio show on CJGX in Yorkton, called "Minor Sports Corner," back in the days when local radio was really local.

"I started doing my first play-by-play of a hockey game when I was 12," Keilback remembered. "My dad was calling the senior games in Yorkton and on Minor Hockey Day in Canada, I got to call the second period. I fell in love with it and did that every year as I was growing up. When I was 20, I was hired full-time at CJGX and along with my other sports casting duties, I did hockey, baseball and curling play-by-play. Then, in my early 30s, I was doing TV in Yorkton and got the call from Friar in Winnipeg. The Jets had just joined the NHL and I jumped at the chance."

Keilback was wonderful as the Jets play-by-play man, but a contract dispute in 1994, signaled the end of his career in Winnipeg. But when the Jets moved to Phoenix in 1996, he caught on with the Coyotes and did radio and TV play-by-play in Phoenix until 2008. This past winter, he was the play-by-play voice of the Manitoba Junior Hockey League on NCI FM, right across the province of Manitoba.

He also picked up a part in the movie "Goon," as, what else?, a hockey broadcaster. Filmed in Portage la Prairie, it's scheduled to be released next fall.

"I absolutely enjoyed calling the junior games on NCI and hope to be able to do more next year," Keilback said. "But if the NHL ever came back to Winnipeg and I had the chance to do those games again, I'd be behind the microphone in less than a heartbeat."

Keilback, who currently calls himself "semi-retired," is convinced the NHL is headed back to Winnipeg – and it's coming sooner, not later.

"That's right, I'm completely positive the NHL will return to Winnipeg and I think there's a good chance it could be this coming fall," he said. "The hold up is the NHL owners, of course. The name Winnipeg does not sell tickets in New York or Los Angeles any more than the names Nashville or Carolina would sell tickets in Winnipeg.

"I think some of the Canadian owners are a little hesitant as well. They'd rather not have to divvy up another share of their national television revenue if they don't have to. There's also the fact that (NHL Commissioner) Gary Bettman would have to admit that his decision to move teams out of Canada and into the southern United States was a complete failure and I don't think he wants to do that."

Keilback has had an amazing career in Winnipeg and he's still one of the most copied hockey broadcasters in Canadian history. In fact, so many of his signature lines (Hawerchuk, with the wr-a-a-a-p-around!) have been stolen by so many broadcasters that it's as if he was the first and only hockey play-by-play man.

However, he'll be the first to tell you he had a couple of iconic broadcasting heroes himself.

"My dad, of course, because he was the broadcaster I ever heard," Keilback said. "And Danny Gallivan the long-time play-by-play guy with the Montreal Canadiens. I always thought Gallivan was the best and I could listen to him all night long."

Fortunately, there are still hundreds of thousands of Manitobans who can listen to Curt Keilback all night long. And thanks to NCI, they are still getting that chance.
(Read more in the April 19 - May 16/2011 issue of Senior Scope)

---
---
Senior of the Year Awards:
Call for Submissions 3rd annual awards acknowledge our City's builders
Winnipeg, April 11 - Recognizing that the City's senior community is a major asset to Winnipeg's history and future, Mayor Sam Katz today issued a call to our City's youth to provide nominations for the third annual "Mayor's Senior of the Year Awards."

"The Senior of the Year awards allows us to celebrate the achievements and accomplishments for our City's builders," said Mayor Sam Katz. "By asking the youth of our City to get involved and nominate a senior, we provide a tremendous opportunity for our young people to recognize and learn from the wealth of knowledge our seniors possess."

If you are a Winnipegger under the age of 18, and know an older adult (60 years or older) who has made a difference in your life, or in the lives of others, you are encouraged to nominate them for "Mayor's Senior of the Year Awards."

A wide range of activities including active living, arts and literature, care-giving and humanitarianism, leadership and community service, and education, are suggested criteria to include in your submissions. Nomination forms are available online at www.winnipeg.ca/interhom/mayor/
Deadline for submissions is Wednesday, June 1st, 2011.
(Read more in the April 19 - May 16/2011 issue of Senior Scope)
---
---
SeniorBusters Program
Seniors are targeted for many reasons: loneliness, lack of family support, age vulnerability and for health-related reasons such as Alzheimer's. Seniors are particularly susceptible to fraud schemes because their generation tends to be more trusting and less likely to end conversations. Fraudulent telemarketers build relationships with seniors and gain their trust before victimizing them. Ruined family lives, great financial losses and suicides have resulted from this brutal crime against the elderly.

Unfortunately, staff at the Canadian Anti-Fraud Centre found they had neither the time nor the resources to follow up with victimized seniors so the Centre decided to enlist volunteer seniors who could help with the battle against mass marketing and identity fraud. The volunteers were able to relate personal experiences, provide support and establish rapport with elderly victims. The "seniors helping seniors" program was named SeniorBusters.

SeniorBusters was officially launched by Premier Mike Harris in October 1997. Since then, it has grown to a group of approximately 50 active volunteers. They come from diverse backgrounds and bring many different skills to the CAFC and its attempt to reduce the level of mass marketing fraud and identity theft. This is clearly a successful and
effective long-term strategy in reducing the number of seniors victimized by fraud. SeniorBusters helps fraud victims by:

• Relating personal experiences, wisdom and expertise
• Providing strength to victims
• Providing emotional and moral support
• Being sensitive to the needs of seniors
• Contacting victims as often as needed
• Educating and re-educating seniors
• Obtaining suspect company information
• Referring victims to other appropriate agencies
• Developing personal relationships with victims
• Ensuring that seniors have a place to turn to when they need assistance
• Helping victimized seniors regain personal dignity

For more information please visit www.antifraudcentre.ca
(Read more in the April 19 - May 16/2011 issue of Senior Scope)
---
---
Financial Planning:
Look before you leap
Taxing issues of owning U.S. property
BRIAN G. KONRAD CFP, Financial Consultant

When Canadians think about another long Canadian winter, the anticipation of an annual sojourn to the sunny south is especially appealing. For many, purchasing a second residence in the United States is an attractive alternative.

However, significant tax planning, financial planning and estate planning implications accompany the purchase of foreign property. It's important to do your research first, so you know what to expect and how to prepare. Here's a review of the key issues.

Financing the deal

When you purchased your principal residence in Canada, chances are you took out a mortgage for a good portion of the total value. You might want to do the same with your U.S. property.

Canadian based lenders cannot accept a mortgage on a U.S. property. You may need to consider other sources of financing.

You may be able to borrow in the U.S. at a lower rate than Canada. While lower interest rates are appealing, remember that foreign exchange fluctuations ultimately may make your U.S. debt more expensive to service.

A non-recourse mortgage may be your best option since this type of mortgage may reduce your exposure to U.S. Estate Tax.

Ownership options

There are many options to ownership that may reduce the estate tax liability. Generally, assets can be owned personally, in a partnership or through a trust.

Keep in mind that there are many factors you need to consider in order to determine what option is right for you. You should consult with your Investors Group Consultant who will work with your lawyer and accountant to ensure you maximize your tax reductions.

After the purchase

Once you've decided on the property you want and have arranged appropriate financing, more decisions await.

• Will you rent out the property? Canadian residents are taxable in Canada on their world wide income. Therefore, any net rental income from your U.S. property will be taxable to you in Canada.

In addition, you will be taxed in the U.S. on the rental income (foreign tax credits can be claimed when filing your Canadian tax return, to avoid double taxation). Depreciation is mandatory for U.S. tax purposes, so the U.S. and Canadian returns should be done in conjunction with one another to ensure the full potential of foreign tax credits is achieved.

U.S. tax must be withheld by the U.S. renter unless you elect to use the net rental income method.

• If so, for how long? If you rent out your U.S. property for more time than you use it yourself, and if it costs more than $100,000, you must also file an annual information return in Canada along with your Canadian tax return (Form T1135).

Upon disposition

When you sell your U.S. property, any capital gains will be included in your income for Canadian tax purposes. As well, a U.S. federal return and possibly a state return will be required to report the gain. Canada will usually allow a foreign tax credit for U.S. tax paid.

A deemed disposition for Canadian tax purposes will also take place upon death. The U.S. may levy federal and state estate tax, depending on the value of the property and the size of your estate. Only U.S. estate tax may be eligible for a foreign tax credit to offset any Canadian capital gains tax on the deemed disposition.

Buying real property is always a major life decision, and often represents a major expenditure. When that property is in another country, there are additional tax and estate planning implications to consider.
_________________________________

BRIAN G. KONRAD CFP
Financial Consultant
brian.konrad@investorsgroup.com
(204) 489-4640 ext. 246
100-1345 WAVERLEY STREET
WINNIPEG, MB R3T 5Y6
1-888-205-4828

This report specifically written and published by Investors Group Inc. is presented as a general source of information only, and is not intended as a solicitation to buy or sell specific investments, nor is it intended to provide legal advice. Prospective investors should review the annual report, simplified prospectus, and annual information form of any fund carefully before making an investment decision. Clients should discuss their situation with their Consultant for advice based on their specific circumstances.

™Trademark owned by IGM Financial Inc. and licensed to its subsidiary corporations.

"Look before you leap" ©2008 Investors Group Inc. (10/2008) MP1014

(04/2010) MP1262
(Read more in the April 19 - May 16/2011 issue of Senior Scope)