---
---
Back to top
We All Deserve a Barrier-Free Manitoba. Accessibility Shouldn't be Optional.
- The Push for Provincial Legislation By Hilary Grammer
By Hilary Grammer
Accessibility is basic to the quality of life of all Manitobans. Seniors, unlike many Manitobans, cannot take accessibility for granted. The design and conditions of our streets and sidewalks, even our parking lots, make it hard for many seniors to get around their communities. Many of our buildings are hard for seniors to get in and out of. Likewise, basic services ranging from transportation to snow clearing and even information in print or on the web often seem designed to meet the needs of healthy 35 year olds with perfect hearing, sight and mobility.

As the bulge of baby boomers reach retirement age, accessibility is going to become an issue for more and more seniors. The numbers are undeniable. In 2006, an estimated 71,000 to 77,000 Manitoba seniors faced accessibility challenges due to a disability. By 2031, the number facing such challenges is expected to double to almost 150,000.

Our population is aging – and the incidence of various disabilities increase with age. Patrick Falconer, spokesperson for Barrier-Free Manitoba (more on that organization later), addressed what this means to us all, saying that, "every Manitoban now has a disability, knows someone with a disability or will acquire a disability in the coming years."

Recent surveys completed by 1,100 persons concerned about seniors' issues in 46 communities across Manitoba clearly identified accessibility issues related to

• Housing
• Transportation
• Public / commercial buildings (i.e. heavy manual doors, lack of elevator access, narrow hallways)
• Public washrooms
• Parks / walking trails (inadequate benches and rest stops)
• Public telephone services and written material not adapted to seniors' needs.

It is easy to understand how these everyday features in our community can either lend themselves to easy, pleasurable participation in friendships, community events, shopping, appointments and entertainment – or, conversely, chip away at a senior's ability or desire to go where s/he wants or needs to go, to receive the information s/he wants or needs to receive, and – most importantly – to feel comfortable in his or her community.

There are two major efforts underway to address accessibility issues.

One of these is the Age-Friendly Manitoba Initiative (www.gov.mb.ca/shas/agefriendly), led by the provincial government's Seniors and Healthy Aging Directorate in partnership with community groups. The Age-Friendly Manitoba Initiative supports seniors in leading active, socially engaged, independent lives that contribute to healthy aging.
A second effort, the drive for legislative reform, has been
spearheaded since 2008 by Barrier-Free Manitoba, a community-based, cross-abilities initiative. Based on its extensive research, Barrier-Free Manitoba has found that voluntary measures encouraging accessibility, while useful, are simply not adequate. They have found that accessibility legislation, like the laws now in place in Ontario, the United States and Australia – that actually requires accessibility measures be implemented – is the key mechanism needed to ensure timely change.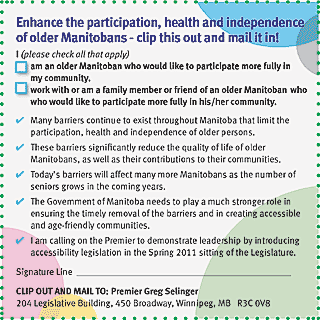 Help change legislation for a Barrier-Free Manitoba.

Click on image for larger form to print, fill out, sign, and mail.
Barrier-Free Manitoba`s web site (www.barrierfreemb.com) provides more information on these findings.

While both these efforts are making progress, the work of Barrier-Free Manitoba has now reached a critical juncture.

Progress Toward Accessibility Legislation

Over the last 2 1/2 years, Barrier-Free Manitoba has not only raised awareness about accessibility issues, but its call for legislative change has been endorsed by such prominent Manitobans as Dr. Paul Thomas, Reg Alcock and John Loxley and by a diverse range of organizations and agencies including groups like:

• Age & Opportunity
• Alliance for the Prevention of Chronic Disease
• Canadian Council of the Blind - Manitoba Division
• Creative Retirement
• Fédération des aînés francos-manitobains
• Provincial Council of Women of Manitoba
• Manitoba Association of Senior Centres
• Manitoba Chapter - Canadian Hard of Hearing Association
• Manitoba Federation of Labour
• Meals on Wheels of Winnipeg
• Provincial Council of Women of Manitoba

The call for legislation has also been endorsed by hundreds and hundreds of concerned Manitoba citizens whose lives have been seriously affected by the lack of accessibility in their communities.

In November of last year, the Government of Manitoba released the Discussion Paper for Made in Manitoba Accessibility Legislation. The purpose of the paper was to encourage discussion on proposed legislation that would move our province toward the goal of an inclusive society. As had been called for by Barrier-Free Manitoba, the legislation being considered would set out a process for elimination of "the institutional and physical barriers faced by seniors and persons with disabilities" and the "prevention of new ones". The paper also stated that "increased accessibility also promises to provide significant economic benefits and will support Manitoba-based businesses in better meeting the growing demand for accessible products and services."

The good news for Barrier-Free Manitoba, and the many that support the call for legislation, is that The Province of Manitoba seems poised to introduce this landmark legislation. The bad news is that there is only one sitting of the Legislature left before the upcoming fall election. As Falconer stresses, "this is an amazing opportunity but if the government does not act this spring – before the next election – it may be years before we have the same chance again."

The Final Push – Making it Happen

With the cooperation of seniors' organizations across the province, Barrier-Free Manitoba is mounting a final push to ensure that the Government of Manitoba moves beyond promising words when the last sitting starts on April 12th.

The centre point of the final push campaign are action post cards that Barrier-Free Manitoba is inviting seniors and those concerned about seniors issues to send to the Premier's office. Key statements on the cards read:

• The Government of Manitoba needs to play a much stronger role in ensuring the timely removal of the barriers and in creating accessible and age friendly communities.
• I am calling on the Premier to demonstrate leadership by introducing accessibility legislation in the Spring 2011 sitting of the Legislature.
Barrier-Free is providing three easy options to join the ranks of those who are encouraging the government to take action now. Seniors and persons concerned with seniors issues can:
• Complete and mail in action postcards which are available from participating seniors' organizations.
• Complete a web-based version of the action card. The link to the e-card can be found on the home page of Barrier-Free Manitoba`s web site
(www.barrierfreemb.com).
• Complete the clip out action card form on this page and mail it to the Premier`s office.

Manitoba's seniors and those who care about them and provide services to them have historically had a strong voice in Manitoba.

This seems to be a perfect opportunity to use this voice again in a way that will benefit all Manitobans now and in the years to come
(Read more in the March 29 - April 18/2011 issue of Senior Scope)

---
---
There is Nothing Better Than Spring Training Baseball to Get Away from the Cold
By Scott Taylor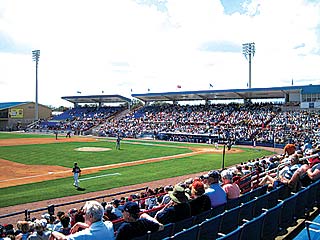 Spring training in Dunedin, Florida
LAKELAND, Fla. – It's hard to imagine there is anything better than this on the planet: You're sitting in a beautiful little ballpark just like Shaw Park in Winnipeg, only it happens to be a warm March day. You have a nice cold beverage, a tasty hotdog with some nachos and plenty of cheese, good friends and there's Magglio Ordonez and Miguel Cabrera hitting back-to-back home runs against the hated New York Yankees.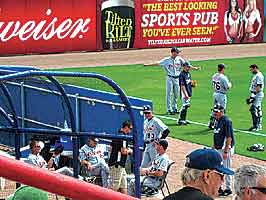 The Detroit Tigers at spring training.
Well OK, it might not be perfect for Yankees' fans but they can have their own fantasy. We like ours, thank you.

And so do hundreds of Manitoba seniors who make the trek every year – or every other year – to Grapefruit League Baseball in Central and Western Florida.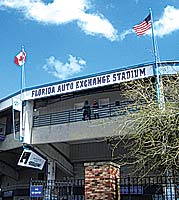 Stadium in Dunedin
"I love baseball. There is nothing I love more," said Tom McClusky, 73, who spent a life in sales in Winnipeg before retiring.

"I always wanted to go to Spring Training, all my life. Ever since I read about it in the Sporting News when I was a kid. I got my first chance 1976. We took our two daughters to Florida and I saw four games. The first Grapefruit League game I ever saw was in Vero Beach where the Los Angeles Dodgers used to be. I'll never forget it. Then we saw two Cincinnati Reds games in Sarasota and then we saw the Orioles against the Yankees in Miami.

"I absolutely loved it, but I didn't get back until my wife and I went to Arizona three years ago. Next year, we're already planning our trip to Spring Training in Florida."

Interesting. The 2010 Grapefruit League season has just wrapped up and yet Tom and his wife are already preparing for 2012.

"Well, we're going to go to baseball, definitely," he said. "But there are a lot of other things to do. I'm even going to apply to be a volunteer at Arnold Palmer's (PGA Tour) golf tournament, the Bay Hill Classic. There is a lot more to the trip than just baseball."

Tom's got that right. When you consider all the casinos, the great beaches, the theme parks, resorts, golf courses, racetracks, hockey teams, basketball teams, hiking trails, shopping malls and restaurants, there is never a dull moment on the Florida spring baseball trail.

Spring Training in Florida is called the Grapefruit League. It's not a league really. It's a just a month long series of games in which the stars of Major League Baseball – along with the fresh-faced kids and aging veterans – either get ready for the regular season or try to win that first or last job.

The games begin around February 25 and last until the final week of March (this year's regular season started on March 31).

There are 15 teams in Florida: the Atlanta Braves are at Disney World at Lake Buena Vista, Boston and Minnesota are in Fort Myers, the Yankees are in Tampa, Philadelphia is in Clearwater, Detroit is in Lakeland, Baltimore is in Sarasota, Pittsburgh is in Bradenton, Houston is in Kissimmee, Tampa Bay is at Port Charlotte, the Mets are in Port St. Lucie, Washington is at Viera, St. Louis and the Florida Marlins are in Jupiter and Toronto is at Dunedin.

There are three ways to attack a spring baseball trip depending on the time you have in Florida.

On a short trip of three or four days, stay in Central Florida and attend games at Disney (Atlanta), Kissimmee (Houston), Lakeland (Detroit) and Viera (Washington) or stay in Tampa, or the beach at Clearwater and attend games in Tampa (Yankees), Clearwater (Philly) and Dunedin (Toronto).

If you have a week, pick a region. North Central will give you Viera, Disney, Kissimmee, Lakeland, Clearwater, Tampa and Dunedin. Southwest will give you Fort Myers (Boston and Minnesota), Port Charlotte (Tampa Bay), Sarasota (Baltimore) and Bradenton (Pittsburgh). The East Coast has Jupiter (St. Louis and Florida), Port St. Lucie (the Mets) and Viera. If you want to stay south, you can start in Jupiter on the Southeast Coast and then take the three-hour drive across Alligator Alley to Fort Myers on the Southwest Coast.

Or, stay for the entire month and catch a game in every park. One of the best things about the ballparks is that none of them are far from the four major highways: I-95 on the East Coast, I-75 Alligator Alley from East-to-West, I-75 on the West Coast and I-4 across Central Florida from I-75-to-I-95.

So now that you know where you're going, how do you get there and where do you stay? Which means the real question is, "What do I do to get started?"

In December, the Grapefruit League schedule should be announced. Always keep tabs on www.mlb.com to make sure you know when the schedule is released and when the ticket-buying dates arrive.

You'll need to rent a car and you'll want to keep an eye on hotel prices. The beaches can get really pricey in March. But shop around. Good deals often pop up on the hotel websites and Disney has some very economical resorts (Pop Century and All-Star).

Now, go through the schedule and pick the places you want to go. As an example, we love staying on the West Coast and in Central Florida. We'll spend a week at Disney World and watch the Braves, Astros and Tigers play. Then we'll go to Tampa for a night or two to watch the Yankees, then over to Clearwater Beach to watch the Phillies and Blue Jays and then down to Sarasota Beach to watch the Orioles and Pirates. We love beach hotels, tiny ballparks and players who aren't all caught up in statistics and pennant races and are ready to sign autographs, hang out with fans and talk baseball. It's pretty loose at spring training and even the big stars are accessible.

(As an aside, here's how society has changed. Our 27-year-old daughter Betsy who lives in Orlando went with us to Sarasota to watch the Orioles and Minnesota Twins play. She wandered down to the Twins bullpen and caught the eye of a young relief pitcher named Anthony Swarzak. While she Googled his career stats on her iPhone, he threw her a baseball. She then sent him a friend request on Facebook and not 20 minutes after the game, he'd already
accepted the request. Now they're pals. That's Spring Training 2011.)

When you've decided how long you want to be in Florida and where you want to stay, you're ready to book your tickets. If you go early in the spring you'll be able to walk up to most ballparks and buy a good seat on Game Day. If you go later in the month, the parks tend to fill up so you might want to pre-order your tickets. If you plan to attend Yankees games in Tampa or Red Sox games in Fort Myers, you should always buy your tickets in advance. The Yanks and Red Sox almost always sell out.

West Jet has some great direct flights to Orlando and Tampa these days, but make sure you book early. And remember, when going to Florida, six-months-in-advance is not that early to make a booking.

And don't forget to take your sunscreen and your ball glove. This is the time of year when the weather is just about perfect and the players are tossing baseballs into the crowd almost every inning.

"I love baseball more than anything else," said Tom McClusky with a grin. "But I love spring training baseball best of all."

THE GRAPEFRUIT LEAGUE MAP:
1. Dunedin – Toronto Blue Jays
2. Clearwater – Philadelphia Phillies
3. Tampa – New York Yankees
4. Bradenton – Pittsburgh Pirates
5. Sarasota – Baltimore Orioles
6. Port Charlotte – Tampa Bay Rays
7. Fort Myers – Boston Red Sox
8. Fort Myers – Minnesota Twins
9. Jupiter – St. Louis Cardinals and Florida Marlins
10. Port St. Lucie – New York Mets
11. Viera – Washington Nationals
12. Kissimmee – Houston Astros
13. Lake Buena Vista (Disney World) – Atlanta Braves
14. Lakeland – Detroit Tigers
(Read more in the March 29 - April 18/2011 issue of Senior Scope)

---
---
HUMOUR COLUMN:

Feline dementia? Or just a cat?
By Willian J. Thomas
Humour Columnist
Cats, like their owners are living longer than ever before. That's the good news. With enhanced longevity comes the downside of aging – arthritis, high blood pressure, kidney problems and even dementia. If you live long enough you'll likely inherit these afflictions.

A recent survey by Scottish veterinary surgeon Danielle Gunn-Moore reveals that 28% of cats aged 11 to 14 are affected by feline dementia. That number jumps to 50% for cats 15 years of age and older.

Similar to Alzheimer's, a protein in the form of sticky plaques build up on the brain's nerve cells causing mental deterioration by disconnect.

Her research was inspired by Dr. Gunn-Moore's own cat; 12-year-old Cardhu started showing signs of human senility.

There are exceptions to the rule of dementia for aging cats. Not all old cats are afflicted.

Years ago I stayed one week in a draughty Bed & Breakfast walkup in Chalk Farm, half way up the Black Line of the London Underground system. The Irish lady who operated the place completely creeped me out with her ghoulish theories on Lady Di's death and how "they first killed her unborn child before they staged the car accident." So my only solace was Rosie, a 21-year-old blind Tabby who slept beside my bed each night. In the morning this cat, scrawny and rickety, but resourceful would walk along the walls all the way down two flights of stairs, around a couch, around a coffee table, under a TV set and up to a window. From there she leapt up onto a cushioned sill, her resting spot for the day. Touching the walls and furniture with her whiskers she had committed two additional routes to memory – one to her food station and one to the litter box. Rosie's mind was still sharp at over 100 human years of age.

My Irish landlady made my stay so unpleasant; the day I left I rearranged all the furniture – just to give her cat a bit of a challenge. (No, I did not do that.)

So cats, it seems, more so than dogs are quite prone to aging dementia.

Kidney failure and hyper-tension are just two of the symptoms of feline dementia. Other signs include aimless wandering, a decrease in grooming and a sudden lack of interest in food.

However with some of the signs the dementia survey warns about, with a cat, it can be a little tricky.

"Inappropriate vocalization," for instance. Could be a symptom of senility, or if the dog walked off with Missy's stuffed mouse in his mouth, it could be a sign that your dog is about to have a nose bleed.

"Episodes of disorientation?" My neighbour once found my cat Wedgie hiding in his bird feeder. Going a little batty? Hardly, Wedgie all but put his toes to his lips so that Bob wouldn't alert the incoming birds. Or as Wedgie liked to call them, "lunch."

"Memory loss that causes your cat to forget commands?" Hullo!!!! A cat that followed orders!?! Until they begin to crossbreed cats with dogs, you're pretty much talking to yourself while giving directions to felines. In fact, if your cat does heed your commands, that too might be a symptom of senility.

"Disorientation like getting trapped in corners?" Once again I refer you to my juvenile delinquent Wedgie, who, on the first day I brought him home was so curious about his new digs; he got his bum stuck between the couch and the baseboard radiator. In fact, that's how he got his name.

"Constant pacing back and forth?" Okay, but what if he's just worried about something like dinner being late or chicken versus beef or you with that bottle of shampoo in your hand?

"Lack of interest in food?" Yeah, that's probably a sign of dementia unless Tabatha there has found a better deal two doors down.

"Confusion about time?" Forgetting they've been fed?

Once again, on a personal note, I once had a cat named Malcolm who could eat a husky under the table. Malcolm ate his food and often cleaned out the bowls of three other cats that were too well-mannered to hiss and scratch. Malcolm was quite thin for a glutton (I know, I know, we all hate people who can pull that off!) and his nickname was "Hoover." Many a time he tried to trick me into believing I'd forgotten to feed him. It only worked about half the time. Senile? No. Sly? Like The Family Stone.

"Screaming in the middle of the night?" That could well be a sign of advancing dementia or a nightmare involving him, you and a pill.

"Forgetting the location of the litter box?" Either way, you got yourself a big problem. I never had a cat that misplaced the sandbox, but there was old Uncle Randal from Antigonish who … let's just say the far corner of the dining room does not make a great substitute for the 'john' and there are still people from that Thanksgiving Day dinner who are still in therapy.

'Increased irritability?" Not likely a serious sign. I believe it was a cat who said: "If you're not angry half the time, you're letting down the breed."

"Increased attention seeking?" Yeah, like jumping into even more laps of people who do not like cats, than he normally would?

And that's the real problem with cats and the detection of dementia – most of them are so wonderfully loony, how do you know for sure?

Editor's Note: If you suspect your cat is experiencing dementia,
please see a vet. There are medical treatments and behavior tips available to ease the problem. Also your cat could exhibit senile habits, but might just be unhappy or depressed.

For comments, ideas
or a signed copy of
The Cat Rules, go to
www.williamthomas.ca
(Read more in the March 29 - April 18/2011 issue of Senior Scope)
---
---