Getting "Pruny"
on Purpose!
By Deborah Lorteau
When was the last time you got "pruny" on purpose? I am not talking about eating prunes, though those little fruits really pack a punch if you need to get 'things' moving. No I am talking about something much closer to living a life of hard work and leisure, and how getting 'pruny' takes on a whole new meaning.

First of all let's look at the different ways a person can become 'pruny'. Some of you might be wondering, okay, she better have a point soon. I do. While doing various jobs and tasks around the home and at work I have discovered some surprising ways where your hands actually get the "pruny" look. While gardening with rubber gloves for instance, or while working in a dish-room in an institution style kitchen, while washing clothes outside, while doing spring cleaning, and while doing dishes the old fashioned way in a tub with cold water standing outside near a tent.

Many of us rely too much on modern shortcuts such as a dishwasher. Personally I find doing dishes to be a good time to reminisce or review the days' events. As the scent of Sunlight drifts up to my eager nostrils, I am swept back in time to when as a young girl I stood at the sink and washed sink after sink of dishes. My sisters and I would tell jokes, share stories or trade hysterical gossip to pass the time. One person washed the dishes, one person dried them, and the other put it all away and swept the floor. There was a camaraderie and feeling of closeness that a dishwasher does not bring to the process of the meal. I washed dishes until my hands were "pruny" and to me it meant several things. A good meal was served, many people were at the table, effort was put into the meal, and we all shared in the task of the cleanup and preparing for the next one. We always had faith in there being a next one, which made the task enjoyable.

Another time my hands got very 'pruny' while camping in the lovely area of Roseau River with a multitude of friends on some private land. There was no running water at the campsite but the owners had a nice big barrel that caught rainwater that we could use to our hearts content. There was never a huge amount of dishes to be done but the task was made so much more pleasant by being outside, hearing the birds cheering us on, and doing it at a pace that was slow to some, but sooo relaxing to us.

While spending some time up north at a fishing camp, I had to resort to washing my clothes by hand and hanging them to dry on a makeshift line outside my tent. I was one of two females in the entire camp and my
fellow campers were confused as to why I would need to wash clothes at all. These men all thought why bother, we are camping. We were there for three weeks and as a woman I tell you that is a long time to go without washing your clothes, I don't care what you guys say. So there I was washing, scrubbing by hand with no washboard and then hanging the clothes up on the line. It was cold, and my hands felt like they were going to start cracking but then the 'pruny' effect took over and the chore had triggered some memory from long ago. When I was growing up we lived in some housing that did not have running water so we had to melt snow in the winter and hang the clothes outside. The pants would stiffen up like frozen scarecrow legs but when they thawed out from the heat of the wood stove there was a smell that you cannot find anywhere. The clothes smelled fresh, clean, and wild from the wintry air. Our hands got 'pruny' but the effect was worth it considering what had to be done to achieve that special look.

This brings me to getting 'pruny' in another way. When was the last time you got 'pruny' from sitting too long in a bathtub? When we were kids we would sit and soak forever, playing with our toys, making Mohawk hairdos out of bubbles or pretending to float and listening to our heartbeats. These times were spent in honeysuckle splendor, with mirrors fogged up and our little hands turned 'pruny; telling us we were truly clean. The dirt of our childhoods had nothing left to hold onto. There are now companies in town that can refit your tub so you can once again soak to your heart's content in a safe and affordable way. This is a pleasure no one should be denied at any age.

I have saved the best for last though, which is getting 'pruny' from the life that you have led. When your days have been filled with caring for children, running a household, building communities, planting a garden, or
taking frozen clothes off the line, your body becomes filled with the memories of all that you have done much in the same way your body becomes filled from the bathwater resulting in a distinctive 'pruny' look. That is a look to be proud of and to strive to achieve. Leave plastic surgery to the stars that need them, I prefer to shine with my 'pruny' skin that reflects how much life I have lived.
(Read more in the Feb 10 /2010 issue of Senior Scope)
---

Recognize the warning signs of fraud
Scams and frauds come in various forms largely depending on the creativity of the criminal. Many of the frauds targeting Canadians have been categorized or given a title to distinguish one from the other, but they all share some commonalities and in the end they are designed to deprive you of your hard earned money. Here are a few tips for you to recognize, prevent, and stop fraud:

If it sounds too good to be true, it is.
• You've won a big prize in a contest that you don't recall entering. You're offered a once-in-a-lifetime investment that offers a huge return. You're told that you can buy into a lottery ticket pool that cannot lose.

You must give them your private financial information.

• The caller asks for all your confidential banking and/or credit card information. Honest businesses do not require these details unless you are using that specific method of payment.

It's the manager calling

• The person calling claims to be a government official, tax officer, banking official, lawyer or some other person in authority. The person calls you by your first name and asks you a lot of personal or lifestyle questions (like how often do your grown children visit you).

It's a limited opportunity and you're going to miss out.

• If you are pressured to make a big purchase decision immediately, it's probably not a legitimate deal. Real businesses or charities will give you a chance to check them out or think about it.

What can I do to protect myself?

Remember, legitimate telemarketers have nothing to hide

• However, criminals will say anything to part you from your hard-earned money.

• Be cautious. You have the right to check out any caller by requesting written information, a call back number, references and time to think over the offer.

Legitimate business people will be happy to provide you with that information. After all, they want the "bad guys" out of business too. Always be careful about providing confidential personal information, especially banking or credit card details, unless you are certain the company is legitimate. And, if you have doubts about a caller, your best defence is to simply hang up. It's not rude – it's smart.

Cst. Ben Doiron
Winnipeg RCMP
Commercial Crime Section
(Read more in the Feb 10 /2010 issue of Senior Scope)
---
Centre on Aging - Senator Sharon Carstairs, Chair of the Special Senate Committee on Aging - Final Report 2009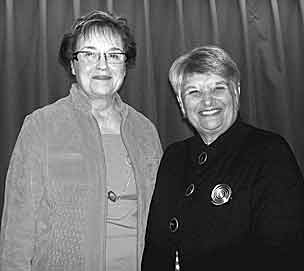 Barb Payne (left), Acting Director for Centre on Aging, and Senator Sharon Carstairs.
The Centre on Aging presented keynote speaker, Senator Sharon Carstairs to give the final report on Canada's aging population. Senator Carstairs, Chair of the Special Senate Committee on Aging and Minister with special responsibility for palliative care—as well as teacher, politician, author—reported that Canada really isn't ready for an aging population.

The Committee was established in November, 2006, to determine if Canada was providing suitable programs and services for seniors when they are needed in an effort to combat ageism.

Ageism is defined as discrimination on the basis of age that:
• Makes assumptions about capacity;
• Removes decision-making process;
• Ignores older person's known wishes; and
• Treats the older adult as a child.

Senator Carstairs pointed out that, "Aging is not a disease. It's a natural life-long process. Seniors are a rich and vibrant part of our country."

In the study, they looked at four categories:
1) defining seniors;
2) the diversity of seniors and their needs;
3) promising policy approaches;
and,
4) the role of the federal government.

They compiled information from seniors, senior organizations, caregivers, practitioners, policy makers, politicians, etc., and looked at issues including Health, Finance, Housing and Transportation and more.

The Committee visited communities across Canada including Halifax, NS; Moncton, NB; Sherbrooke, QC; Welland, ON; Ste. Anne and Sagkeeng First Nation, MB; plus Vancouver and Victoria, BC to learn first-hand from the people of those communities what they feel is needed to improve situations for the aging.

In the final report, the Special Senate Committee on Aging established recommendations, not only for the federal government, but also for every Canadian, province, territory, municipality, for every business, and for every volunteer organization, and so on, so we can all address the challenges of an aging population. These are only recommendations in hopes that it will trigger action at every level and aspect of our society.

During their research, the Committee learned that, "Ageism is a two-way street. Active aging eliminates aging," says Senator Carstairs. Some concerns they recognized were seniors living in isolation or inappropriate homes due to inadequate housing and transportation, and those living in poverty where basic needs were not met with their current income security measures. As Sophie Kolt pointed out from the audience, isolation can also lead to more serious consequences such as alcohol and pharmaceutical abuse or improper use, which in turn can lead to seniors unnecessarily utilizing emergency and hospital beds, also due to the fact that there are no programs or services to address the issues before it reaches that critical point.

The Committee also recognized that health and social human resources are not prepared to handle a quickly-aging society. Harry Paine, board member and columnist for MSOS, pointed out that pediatricians outnumber geriatricians approximately 6 to 1. Senator Carstairs says that geriatric training should be included in basic physician training. Also recognized is the fact that caregivers are inadequately supported, many having to choose between their jobs or caring for a loved one.

Senator Carstairs wonders why the transition from working full time to retiring can't be a gradual process, allowing people to work part-time for a period without sacrificing their pensions, which currently are based
on their last two years of income. She also wonders why doctors are given the responsibility of taking away drivers licenses of the elderly. There should be board to decide that fate. And why can't there be graduated licenses, similar to that for the younger generation, which might allow a senior to drive to the local grocery store in their small town, but not on a major freeway or highway with high-speed traffic. She also would like to support the Barrier Free Living concept of having building codes on all new structures to include wider doors to accommodate those in wheelchairs and other
mobility devices.

Canadians are not only living longer, but longer and in good health, as well. Statistics Canada stated that the number of people over 100 increased 50% from 1996 to 2006 - in only 10 years! And it's expected to triple to more than 14,000 by 2031. With the baby boom population aging and Canadians having fewer children, it's inevitable that we are rapidly shifting into an aging country and changes need to be made to accommodate that.

In the report, 'seniors' were also defined as 'older Canadians' and some categorized them even further as "young old", "middle old", and "frail old."

The terms "senior" and "older Canadian" are used interchangeably in the report to accommodate each individual's view of themselves. Many older people have a positive view of the term "senior" as it can suggest a sense of wisdom and experience accumulated throughout one's life, whereas others resent the label of "senior" and the so-called stigma attached to it in some cases.

Instead of defining a senior by their age, they are defined in the report as those eligible for retirement, those retired, and those in long-term care facilities. There is an emphasis on the frail senior to ensure that human dignity is recognized in options available to them.

Recommendations the Committee on Aging submitted to the federal government are:

• Move immediately to take steps to promote active aging and healthy aging and to combat ageism;

• Provide leadership and coordination through initiatives such as a National Integrated Care Initiative, a National caregiver Strategy, a National Pharmacare Program, and a federal transfer to address the needs of provinces with the highest proportion of the aging population;

• Ensure the financial security of Canadians by addressing the needs of older workers, pension reform and income security reform;

• Facilitate the desire of Canadians to age in their place of choice with adequate housing, transportation, and integrated health and social care services; and

• Act immediately to implement changes for those populations groups for which it has a specific direct service responsibility, and in relation to Canada's official language commitments.

The complete list consists of 32 recommendations.

This report can be downloaded at:
www.senate-senat.ca/age.asp
(Read more in the Feb 10 /2010 issue of Senior Scope)

---
On the Road to Awareness
Conference
March 18 & 19, 2010
The Fort Garry Hotel
333 Broadway Avenue • Wpg
This is a conference that examines the tough issues of mental health, substance use and driving as it pertains to aging. It is organized by Partners Seeking Solutions With Seniors and Transportation Options Network for Seniors.

Healthcare professionals, older adults, caregivers of older adults, and professionals in senior serving organizations are invited to attend.

Presenters are:

• Senator Sharon Carstairs – Senate Report on Aging 2009: Senator Sharon Carstairs, co-chair the Senate Special Committee on Aging will discuss the findings of the 2009 Senate Report on Aging on growing older in Canada and the many ways we need to examine and respond to help Canadians age well.

• Elliott Paus Jenssen – Changing the Dialogue on Ageism: This presentation is about ageism: our stereotypical thinking about older adults, prejudice, discrimination and the resulting adverse consequences. It explores the pervasiveness of ageism in our society through individual acts and institutional practices and policies. Ageism's insidious effects are discussed with special emphasis on the compounding effects of ageism with other "isms." The presentation will include discussion of changes we need to make to "change the dialogue" in order to reduce the barriers to participation
by all older adults in society.

• Economic Impact of Seniors in Vibrant Communities – panelists from Manitoba and Saskatchewan

Panel participants: Dale Worobec, Communications Manager, Saskatoon Council on Aging,
Cal Abrahmson, Mayor of Mont Marte
Saskatchewan, Eileen Clarke,
Mayor of Gladstone, Manitoba

In this presentation, Dale Worobec will discuss the paid and unpaid roles of older adults and how communities benefit when their senior residents are engaged. The Mayors of Mont Marte and Gladstone will present best practices on the successful engagement of older adults in their communities.

• Ruth Anne Craig – Empowerment
Ruth-Anne Craig, Executive Director CMHA Manitoba, will be discussing Empowerment as it refers to increasing the spiritual, political, social or economic strength of individuals and communities and how it often involves the empowered to develop confidence in their own capacities.

• Syva-Lee Wildenmann (MB) & Pat Harcolt-Peever (SK) – Caregivers Mental Health
Syva-Lee Wildenmann, Program Director Rupert's Land Caregivers Services & Pat Harcolt-Peever, Caregiving Program, Saskatoon Council on Aging. This presentation will explore the issues of caregivers mental health as a result of our aging population and the shift of health care services from institution to community based settings.

• Manitoba Public Insurance – De-mystify the process of losing your drivers license
This presentation will help to demystify the process of losing your drivers license through a voluntary decision or medical reason. Chris Beck will discuss the Manitoba Public Insurance policy pertaining to driver licensing and Linda Johnson will discuss the Driver Assessment Process and tools that are used when assessing people's skills and abilities in relationship to driving.

• The Dream of Peer Helping– Lynn Crawford, Coordinator PSSS Peer Helpers, and
Deb Kostyk, Addictions Foundation of Manitoba.
This workshop will provide a historical look of peer helping in Manitoba and also illustrate current highlights of peer helping developed and implemented by Partners Seeking Solutions with Seniors. Older adult peers will share stories about their work that will inspire participants and affirm the value of peer helping programming.

The full conference program and registration forms are available on the websites: www.tonsmb.org or
www.solutionsforseniors.cimnet.ca
and registrations can be faxed to:
204-475-3003.

Costs: Early Bird (Jan. 4 – Feb. 12)
Regular (Feb, 13 – Mar.12)

Professionals /General Public :
$150 / 2 days (early bird)
$200 / 2 days (regular)
$100 / 1 day (early bird)
$125 / 1 day (regular)

Retired 65+ :
$50 / 2 days (early bird)
$80 / 2 days (regular)
$35 / 1 day (early bird)
$45 / 1 day (regular

For more information, please contact:

Linda Rigaux
Partners Seeking Solutions With Seniors
linway@mts.net
or 943-8176 or

Lisa Tinley
Transportation Options Network
for Seniors
ltinley@shaw.ca
or 668-6299
(Read more in the Feb 10 /2010 issue of Senior Scope)
---


William J. Thomas
Oh Captain, My Captain, run for your life

I recently toured the ancient Mayan ruins at Chichen Itza in Mexico's Yucatan Peninsula. After walking the sacred grounds which the Maya established 1500 years ago, most people feel a deep spiritual transformation. Me, I came away thrilled that I wasn't good enough to make their ball club.

Today, the Maya of Mexico are a friendly, peace-loving, docile people. Sweet is an apt description of these squat, copper-toned Indians. But back in 500 AD, their ancestors were quite the brutal and blood-thirsty bunch.

At Chichen Itza, they've discover secret cinotes or deep natural wells where 13-year-old girls, weighted down with heavy jewelry, were once sacrificed to the gods. And when the Mayan king died, his man-servant had to die as well in order to take care of him in the next life.

The Chichen Itza ball court consisted of a long and grassy field, walled along the sides with a temple at one end, a grandstand for the elite at the other. Hordes of spectators lined the court as the captain stood on an elevated knoll under a stone ring very high up the wall and attempted to knock a three-kilogram hard rubber ball through the ring using only a knee, a hip or an elbow. His six teammates used bats on the field to gain possession of the ball from their six opponents then fired it at the captain who would redirect it for the score.

If he hit the ring, he scored a point but when he miraculously powered the ball clean through the hole in the ring, a tremendously difficult feat, the game ended immediately and triumphantly.

Then, in the mother of all award ceremonies, for leading his team to victory, the captain was immediately decapitated by the sword of the losing captain.

With the exception of Toronto Maple Leaf fans, who will go Stanley Cup-less for this, the 37 th consecutive year, I don't know of anybody who would root for this kind of victory celebration.

No doubt, Don Cherry would like to see human decapitation in professional hockey, but I'm sure he'd insist on a five-minute major to go with it.

The winning captain's head was then impaled on a sharp stick and planted in a nearby garden where the dripping blood provided the enrichment for new life to spring forth from the soil.

I think killing your captain is a very bad idea and I couldn't help but feel sorry for Enrique of the Chichen Itza Eagles.

"Enrique, this is the luckiest day of your life."

"How's that, coach?"

"The King just named you captain for today's game against the Toltec Serpents."

"You know coach, I'm flattered, I really am but I'm not what you call a born leader. Now you take Chuchalub over there, he's the guy the boys would follow into a cinote full of crocodiles."

"Boy, I'll tell you, Enrique, that shot you made in practice yesterday, that was to die for!"

"Sure, I'm great in practice but let's face it, coach, I'm a game day dud. Boy that Chuchalub, he's got an elbow like the great Gordonis Howe."

"Well today's the biggest game of your life, Enrique, and as you know, Xavier, the captain of the Toltec Serpents is out for blood."

"But what happened to Kukula, our previous captain?"

"He ended his career on a high note, Enrique. Won his last game. Now he just putts around in the garden."

"I don't know coach, I'm a lot more comfortable on defense."

"Nonsense Enrique, all you have to do is go out there and play like there's no tomorrow."

"Ah, I don't know, the thrill of victory just doesn't do it for my anymore."

"No, Enrique, you're the guy. Without your leadership, the Eagles look like a bunch of Chickens running around with their heads .. their heads .. their heads up their cavities. Besides, you get to wear the big "C," you get to do the coin toss and if you're lucky, you get to catch the half-time show."

"Reach for the brass ring?"

"No, sorry Enrique, we're Mayas not Jacksons."

"Maybe I'll talk it over with my family."

"It's a done deal, Captain Enrique. Say, would you save me a trip and leave this new sword in Xavier's locker. By the way, your daughter Regina? What's she about 13 years old now?"

"Actually, she's much older, just short for her age."

"Bring her to the game. There's a party at the cinote afterwards."

"What's that?"

"A fifty-pound necklace for your little princess. Pure jade. She'll love it."

"Anything else?"

"Yeah, for being such a good sport Enrique, the King is going to make your father his new man-servant."

"Oh, no."

"Oh yeah. Easy job. Between you and me, the King is on his last legs."

"Well, thanks for dropping by, coach."

"One more thing."

"What's that?"

"In the coin toss? Don't take heads."
______________________________

William J. Thomas lives on Sunset Bay in Wainfleet, Ont. He is the author of seven books of humour, including The Dog Rules Damn Near Everything (Damn Near Everything!). www.williamthomas.ca

(Read more in the Feb 10 /2010 issue of Senior Scope)

---