-
Spotlight feature:

Harold Casselman
Winnipeg, MB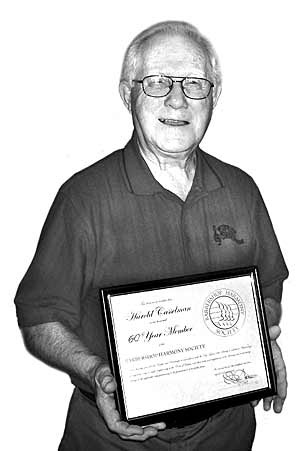 "There's no bad day that can't be
overcome by listening to a barbershop
quartet; this is just truth, plain
and simple." ~ Chuck Sigars

Where does someone at the age of 87 find the motivation and energy to sing regularly with the Good Neighbours Choristers, the Winnipeg Golden Chordsmen Barbershop Chorus, as Baritone with the Generations of Sound Quartet, with the Oakbank United Church Choir and then, volunteer at the Oakbank Dinner Theatre? Not to mention, travel to various Barbershop conventions and meetings? And then, drive a combine for a friend through harvest season, which he has been doing since 1992? And all this after having major heart surgery less than a year ago?

Ask Harold Casselman, as he is this 87-year-old who is young at heart, and soul, and busier than a bee. He also has family near and far that he is devoted to, and often travels by train to visit the distant one's.

What seems to motivate Harold is his zest for life and his love of singing, especially the Barbershop style. Harold just received his 60 Year Member certificate from the Barbershop Harmony Society, a worldwide organization also known as the Society for the Preservation and Encouragement of Barber Shop Quartet Singing in America, Inc. (SPEBSQSA), for his involvement and dedication within the Society and with the Winnipeg Golden Chordsmen, the local chapter of the Society in the Land of the Lakes District.

There are many 60-year members but not all have been active in the organization for the duration of their membership. But, Harold has been active in it for all 60 of them. He even serves on the executive of the Winnipeg Golden Chordsmen Chorus as VP Chapter Development, Leadership with Charities and is Section Leader for the Baritone Section on the Music Committee. The Winnipeg Chapter chartered in 1948 and had their first show on April 2, 1949.

But what is barbershop music? It's described on the Barbershop Harmony Society website (www.barbershop.org) as, "Music in a very pure form created with nothing but human voices coming together to create a rich and satisfying texture that is pleasing to the ears and invigorating to the soul. Whether you're an experienced musician or a brand new musician, barbershop levels the playing field and allows you to find your voice and be a part of creating something that is greater than the sum of its parts."

There are even Harmony Universities and Colleges. Each of the Society's 16 Districts offers weekend schools, seminars, workshops, and other educational programs. You can get more information from the Barbershop Harmony Society website on this topic and so much more.

The Barbershop Harmony Society is the first of several organizations to promote and preserve barbershop music as an art form. It was founded by Owen C. Cash in 1938 in Oklahoma, and promoted barbershop harmony among men of all ages. As of 2007, just under 30,000 men in the United States, Australia, New Zealand, Britain, Europe and Canada are members of this organization. International headquarters moved to Nashville, Tennessee from Kenosha, Wisconsin in 2007.

A parallel women's singing organization, Sweet Adelines International (SAI), was founded in 1945.

The Land of Lakes District covers Manitoba, Saskatchewan and NW Ontario in Canada, and North Dakota, Minnesota and Wisconsin in the U.S.
Harold joined the Brandon Barbershop Chorus in 1950, near the community he hails from - Lauder, Manitoba. He grew up and worked on his parents' farm until he joined the Royal Canadian Air Force in 1942 until 1945. It was actually a hired hand on his parents' farm in the 1920's and 30's that inspired him to get involved in more music when the opportunity presented itself. He also taught Harold the basics of how to read music which is a benefit in any style of singing.

"You made your own fun in 1930's," says Harold. He sang duets with his sister, Eleanor, and joined the Lauder United Church choir at an early age. Eleanor was a member of the Regina Sweet Adelines Chapter for 27 years. Harold was the youngest of 11 siblings. He has four sisters left, ages 105, 100, 99 and 89.

In 1950, Harold started a lengthy career working in the Health Care field, firstly as a representative of the former Blue Cross plan. In 1960, he worked at the Riverdale Hospital in Rivers. He then moved to Winnipeg and worked for Manitoba Health Organization and then became the Administrator for East View Lodge in Neepawa in 1966. In 1975, he became the Administrative Assistant for the Middlechurch Home of Winnipeg just outside the north perimeter on Main Street. He then worked for the Manitoba Development Corporation until he retired in 1990.

For sixty years, all through his working years, family and retirement life, to this day, Harold had habitually and eagerly attended weekly rehearsals with the Golden Chordsmen Chorus, currently under the musical direction of Sherrie Bredesen. It is quite a commitment as members are also expected to learn new songs on their own time as well. They compete at District conventions and perform various times throughout the year. Among the Chordsmen, are several quartet groups who perform independently for the public. Harold is proud of the quartet he is part of which is called "Generations of Sound," due to the fact that two of their members, Brian Strong and Duncan Zaluski, who sing lead (melody) and tenor respectively, are much younger than the other two. Brian, being so young considers Harold to be, not only a great friend, but a mentor, as well. Charles Kiefling sings bass (lowest pitch), and Harold sings baritone (between tenor and bass). Harold had sung tenor in his early days of barbershopping. As Harold explained, with this combination of voices, you create chords like an instrument, and you can really do more than an instrument with the flexibility of the vocal chords all working in harmony to create the Barbershop sound. Generations of Sound began in September, 2008 and they generate sweet and tender melodies in classic Barbershop harmony, specializing in old-time a cappella favorites.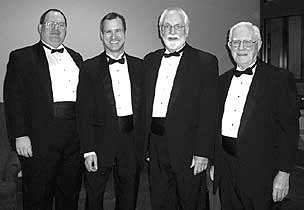 Generations of Sound quartet.
L-R: Duncan Zaluski (tenor), Brian Strong (lead), Charles Kiefling (bass) and Harold Casselman (baritone).
They have performed locally on Breakfast Television, at the St. Norbert Farmer's Market, and as a part of the annual Golden Chordsmen Christmas Serenade. They also sing at private birthday or anniversary functions, and take part in the Singing Valentine Program with the Winnipeg Golden Chordsmen. This is where you can hire a quartet to go to your Valentine to sing some love songs and deliver a rose at workplaces, schools, restaurants and other locations around Winnipeg. It's generally quite affordable and people love it! This program will be in operation on Friday, February 12th and Saturday, February 13th this year. Bookings can be made right up until noon February 11th, but they can usually squeeze people in last minute, even the same day, according to Brian Strong, the Golden Chordsmen Marketing VP. Details will be posted at www.goldenchordsmen.com soon. Check regularly for updates.

Harold recently performed with the "Tempo" quartet, as a tenor fill in, at the MSOS Senior Idol finals on November 18th, 2009 at Club Regent in Winnipeg. They had previously won the right to sing in the finals with Rob Smith as tenor, and other members of the quartet,
Ron (Peppie) Latourelle, Jim Gilroy and Ted Mikliechuck.

The Barbershop Harmony Society is striving to keep the art form alive. "We need more younger members," says Harold, as many current members are getting up in age. It's a great thing to be a part of, as there are many
benefits. Singing, for one, can be very healthy and therapeutic. It can brighten up the moods of everyone — those singing and listening. You make great friends and create beautiful music. You don't need an instrument other than your own voice. If you like to sing and enjoy performing, why not give it a try?

Harold says he's fortunate at his age to still be able to sing. He practices regularly and his singing voice is in top shape. "The more you sing, the better it gets," says Harold. "You can't stop practicing." He says after singing for two hours, your stomach muscles should be sore, not your throat. He takes pleasure in making good sound and harmony, blending with other voices. He also enjoys listening to other performers.

Harold received the most prestigious award given by the Harmony Society in 1983 - the B.O.T.Y. (Barbershopper of the Year) award. And, Harold was very proud to receive the Dorothy Casselman Lifetime Achievement Award in 2002, named in his wife's honour. She passed away in 2001, but some of her music books are still on their piano, and her memory will be in his heart forever.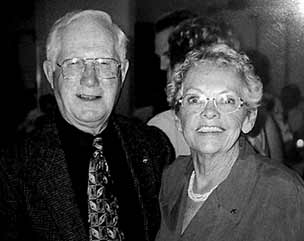 Harold and Dorothy Casselman
Harold first met Dorothy in Rivers in 1951 at a Popularity Contest where Harold's quartet "The Flat Happy Four" was performing at and Dorothy happened to be the winner. Dorothy came from a musical family. Her father played fiddle, her mother played piano and Dorothy sang. They would often entertain with her Dad's band called the "Hyram Hay Seeds". Dorothy lead several Church Choirs over the years and she also sang with the Good Neighbours Choristers. Incidentally, Harold was boarding at her aunt's house in Brandon when they first met. With a little match-making by Dorothy's aunt, the rest became history. It's no wonder that they lived a life in harmony, both with a passion for music. They raised three beautiful daughters. Their oldest daughter, (Lynn), won the Toronto Conservatory of Music silver medal for her piano skills. Jewel is the Music teacher at a St. James school and Margaret Anne is an Interpreter for the Deaf at a Saskatoon school. There are four granddaughters, two grandsons, one great-grandson and one great-granddaughter, as well.

One granddaughter, Amber, and her husband Joel, own and operate Oxford Salon & Spa, the hair salon of choice for the TV anchors at CTV-TV. Another granddaughter, Melanie, co-owns and operates the Park Theatre & Movie Café in Osborne Village in Winnipeg. The Park Theatre combines the best in live music acts, live theatre, comedy, movies, a gourmet café and DVD rentals, all in a beautifully preserved historic building, offering an alternative to many of the city's larger live music/theatre venues. (www.parktheatervideo.com). The other grandchildren are of school age.

His great-niece Raunora Westcott, who plays with the Thurston rink coached by her father, Ron, are heading to Sault Ste. Marie in Ontario at the end of January to compete in the national Scotties Tournament of Hearts curling competition. She and her teammates, Jill Thurston, Kristen Phillips and Leslie Wilson, recently won the Women's title in Killarney in the provincial Scotties tournament. You go girls!

Harold may be 87 years of age, but you couldn't call him old. There may be a good reason for his longevity, besides being in the genes, and it could be credited to singing. He also exercises at the Seven Oaks Wellness Institute and is computer savvy, too, covering his physical and mental exercise. Studies have linked singing with a lower heart rate, decreased blood pressure, and reduced stress and pain. Some music therapists use song to help patients suffering from a variety of psychological and physiological conditions. Singing, particularly in a chorus, seems to benefit the elderly particularly well, showing significant health improvements. So get singing. It could improve and prolong your life!

For bookings of the Generations of Sound quartet, or the Winnipeg Golden Chordsmen Chorus, you can call Brian at 770-0224.

For information on joining the Chordsmen, call Harold at 667-4303. Visit: www.goldenchordsmen.com for more information.

The Chordsmen are hosting a Red Carpet/Northwest Division event on May 15, 2010.
And don't miss their Annual show at Pantages Theatre on June 19, 2010. It will be based on 60's music.


"Together, we hope to keep
the whole world singing!" ~ Brian Strong



---