Spotlight feature:

Doug and Florence
Small
Doug, 80 and Flo, 78...
Dancing for the fun...
and health of it.
The Smalls have been clogging
for nearly 20 years.
"Dancing is the poetry of the foot."
~ John Dryden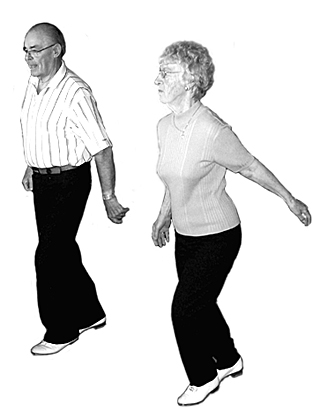 It's no wonder that Doug and Florence (Flo) Small are so healthy, vibrant and virtually pain-free. Doug is 80 and Flo is 78, and both have extremely busy schedules that include mostly fitness in one form or other.

Besides sharing 57 years together as husband and wife—raising a family of seven children—another common interest and passion they share is dancing. Although they enjoy various forms of dance, such as Square, Pattern and Line, Clogging seems to be their favourite.

Clogging has been around for hundreds of years and was usually done to fiddle music. It has common roots with tap dancing. It was termed 'clogging' due to the heavy wooden shoes once worn. Shoes are now commonly Oxfords with steel plates or taps on the toes and heels of the soles. Traditional Clogging is a flat foot shuffle involving fast footwork with little body motion, unlike Step and Tap where there is much jumping or hopping.

The Smalls were skeptical until they saw a demonstration of this 'new' dance at the Young at Hearts Club in their home town of Richer, Manitoba, 20 years ago. Once they tried it, they haven't stopped since. Doug even teaches it at Paradise Village, a 55+ retirement community between Richer and St. Anne on Hwy. #1 East. They have several members in their clogging group and they call themselves the Paradise Cloggers. They formerly were the Dawson Trail Cloggers.

There are many benefits to dancing—physically, mentally and socially—and it can be great for those in their later years. There are some low-impact dances, such as clogging, that are easy on the joints, but still good for the cardiovascular system. It is a form of exercise giving your heart an aerobic workout. Not only does it reduce stress, it increases energy, strength (especially in your legs and hips), muscle tone and coordination.

Research shows dancing was the only physical activity, out of 11 studied in Great Britain, that may reduce the risk of Alzheimer's and other forms of dementia. The physical aspect of dancing increases blood flow to the brain, the social aspect lessens stress, depression and loneliness, and the coordination and thinking required to memorize the routines and to dance with a partner or in a group provides the mental workout necessary for brain health.

Flo says she has no joint pain at all. And Doug is just as fortunate, and happy to keep his legs in shape for golf. He uses his large front lawn as a driving range to keep his swing in shape, too.

Doug retired in 1987 as an Engineer for Canadian National Railway (CN), the largest railway in Canada, spanning coast-to-coast and even down to the Gulf of Mexico in the U.S. A few years later, he went to work for the Transportation Safety Board of Canada, investigating
various transportation accidents. He retired, again, nine years later.

Both Doug and Flo are from Thunder Bay, Ontario, but they moved to Saskatoon, SK, when Doug got transferred. While there, Doug recalls a time when a movie called, "Alien Thunder" was being filmed in the early 70's in Saskatoon, Battleford and Duck Lake, SK. It was a Canadian western film starring Donald Sutherland. Chief Dan George also appeared in it. The movie was based on a true story that followed a Canadian Mountie who wanted to give an Aboriginal a fair trial for the murder of a fellow officer before he winds up being executed. For one of the movie sets, a town was built with a quarter mile of railway track. All they needed was a vintage steam train to complete the set. Now, where could they find one? How about the Prairie Dog Central Steam Train in Manitoba? And, so the train was shipped on a flat car to Saskatchewan for filming. Doug was a master mechanic for CN there, and helped with the Prairie Dog. Later, the train travelled to other communities, including Prince Albert, and Doug got to drive it back to Saskatoon with Flo.

A few years after moving to Saskatchewan, they came to Manitoba and settled in Richer.

Doug and Flo had managed to travel and participate in other activities before Doug retired, but after is when they really started to enjoy life to the fullest.

They danced all the way to Halifax once. It was a 29-day trip and they stopped several times along the way to dance at various places, finally reaching Halifax, Nova Scotia, to attend the 9th Canadian National Square & Round Dance Convention on July 21, 22, & 23, 1994. The slogan for the event was "Dance By the Shore in '94". CBC recorded some of the dancing for a television segment, but it wasn't until they had already returned home when they learned it had aired in Halifax, and that they appeared on the program. They never did get to see it.

Their lives are as full as can be these days. Here is their current weekly schedule:
Monday - Clogging;
Tuesday morning - Aquasizing;
Tuesday evening - Square Dancing;
Wednesday afternoon - Line Dancing;
Thursday morning - Aquasizing;
Fridays - Clogging.
They Pattern Danced on Thursdays, as well, up until spring, 2009, and had also done Tai Chi in the past.

Doug serves on the board for the Richer Young at Hearts Club and he and Flo attend every monthly Dinner and Dance there for only $15 each... and they dance every dance. People come from all over, even from as far as the U.S. border.

As busy as they both are, they are avid readers and they enjoy casino visits from time-to-time for a little gambling.

When Flo isn't baking for parent-teacher meetings or helping out at the Richer Fellowship Church, she might sit down and enjoy a television show. It's not surprising that Wheel of Fortune and Jeopardy are some of her favourites - exercising her mind, not only her body. She enjoys walking and plans to start again like she had done before with her friend, Irene—five days a week, covering four miles each day.

Flo used to be the Richer columnist for The Carillon newspaper, which is based out of Steinbach, keeping the other communities up-to-date on local activities. She also used to volunteer at a senior's home in St. Anne. And she is crafty too. She built some very cute and comical bird feeders and even an 18-hole Purple Martin house. She is quite mechanically inclined, as well, according to her son, David.

Doug is a prostate cancer survivor. Ever since he had to travel to Grand Forks, North Dakota, for radiation treatments nine years ago, he has faithfully attended every annual reunion with fellow patients he met there and became friends with, and their spouses. They gather at different locations, but he especially enjoys the reunions at the Deer Lodge Centre on Portage Avenue, in Winnipeg.

Doug and Flo are proud of their five sons and two daughters. They are also blessed with many grand, and great grandchildren to ensure that when the family does get a chance to get together, it's more than a houseful.

Music was passed down from both of Doug's and Flo's families. There was a strong singing influence from Flo's side and Doug's father played the saxophone on his off-time of being a surgeon. Flo influenced her own children with her singing. She would always sing around the home. Her daughters, Cheryl and Bonnie, and a granddaughter, Becky, are fine singers. Becky had won the Thompson Idol competition a couple years back. And their grandson, Chris, is showing promise with his vocals, as well. He was the lead singer with the Gillam High School Band, even for several months after he graduated. He has also taken up the fiddle and guitar.

Ask anyone and they will describe Doug and Flo as being youthful. They probably inherited some longevity genes, but it's more likely their lifestyle that keeps them young.

(Read more in the Nov. 20/09 issue of Senior Scope)

---