Spotlight feature:

MANITOBA'S
'Father of Nephrology'
Dr. A.E. THOMSON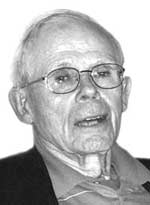 Did you ever wonder how doctors become doctors? Sometimes it's a chosen destiny, sometimes it's just fate with a little guidance from others. Dr. Ashley (Ash) Emeritus Thomson reflects back when he was contemplating his education. He aimed at studying Mathematics, but ended up studying Biology with French as a minor. Mathematics was not available, and it simply was not part of his path to becoming a doctor, although he did not know it was his destiny at the time. Biology was his ticket to furthering his education to becoming a nephrologist—kidney specialist.

Dr. Thomson has earned the reputation as being Manitoba's "Father of Nephrology". He pioneered the treatment and technology of hemodialysis—a method of mechanically filtering and cleansing the blood of patients suffering from short-term kidney failure due to shock from trauma, blood loss or infection. These patients were expected to recover from their kidney failure, but the trick was to sustain them during that recovery time. Dr. Thomson was called in to oversee the situation and that is where it all started. Since then, long-term dialysis, home/self-care dialysis—especially for northern Manitoba, and transplantation became possible.

Ash was born in Regina, Saskatchewan in 1921. His mother had a science degree and his father, a WWII veteran, was farming, and at the same time, acting as a Field Supervisor for the Soldier Settlement Board, settling British veterans into farming in Canada. This became the Veterans Land Act after WWll. Ash spent five years on their farm near Sintaluta (Cree for red fox) and attended grade school in Wolselely and then Assiniboia, Saskatchewan.

Ash's father fought in the famous Passchendaele and Vimy Ridge battles and saw the devastation of WWI. A year before WWII erupted, he advised his son to get as much education as possible before enlisting. Ash attended Regina College for a year and passed with Biology under his belt. At the end of that term, a supervisor of the college suggested Ash enter the pre-med course in Saskatoon. So, while Ash became a pre-med student at the University of Saskatchewan, he watched several of his former classmates become soldiers.

After four years in pre-med here, Ash went to the University of Manitoba to complete his final two years of medicine to obtain his MD.

After his first year there, he ranked 20th in his class. He tied for first in his second year, taking the lead and graduating at the top of his class in 1945. He did post graduate surgery and later, research in vascular surgery.

He studied how different arms affected blood pressure readings. He didn't have the specialized equipment to carry out his research, so he went to Philadelphia to learn about an intravascular pressure recording machine. Upon returning, with the help of a local machinist and an electrical engineer, he built his own blood pressure monitor. This study earned Dr. Thomson his Medical Degree.

In 1948, he obtained a National Research Council grant, tenable in New York or overseas. He chose Manchester, England, where a new medical contingent consisted of ex-WWll medical people who had served in the war. They were involved in a study of the role of sodium in the human responses to fighting in the tropics and the adaptations to changes in environmental temperature. He studied the effects of salt depletion and kidney function in those suffering from heat-related illnesses. These studies were reported to the British Research Council in London and it garnered interest from health professionals from all over the world.

After returning to Winnipeg, a couple years later, he began work in the U of M Department of Physiology, based in the Health Sciences Centre, teaching salt, water and renal function to med-students.

At this time, both major hospitals—St. Boniface and Health Sciences Centre—were just setting up intensive care centres. Patients not responding to initial therapy were frequently sent to Dr. Thomson, as he had the reputation as being 'that guy in physiology who does salt, water and kidneys." They felt if anybody could help these patients, he could.

Dr. Thomson was then hired to set up an Investigation Unit at Deer Lodge Centre for the Dept. of Veteran Affairs to treat mainly ICU patients with acute kidney (renal) failure. People with renal failure generally can survive for about a week on a high carbohydrate and fat diet with no protein or salt. With this 'moose milk' concoction, the body didn't generate as many toxic bi-products and with the lack of salt, the body didn't retain as much fluid.

Dr. Thomson knew there needed to be a better solution. He was aware of a Dutch researcher who successfully treated patients with a room-size dialysis machine. "They were already dialyzing in Montreal and the U.S.," he says. The technology of dialysis was not new. It had been extensively studied in 1850, but was never tested on humans until the early forties. He decided to build one of his own. In 1954, with the help of a technician, they fashioned together some spare parts—a chrome-plated sterilizer, some copper tubing, a couple of washing machine motors and a cellophane membrane—and constructed Manitoba's first ever dialysis machine. Positive results were immediate. Today, dialyzers are much smaller and with modern surgical procedures—artificial shunts and joining arteries to veins for needle access to blood supply—dialysis opened up to people with long-term or permanent renal failure. Before, blood vessels could not handle the prolonged use of needles. People generally dialyze three days a week and two large needles are inserted each time, causing scarring.

According to various sources, the first kidney transplant in the U.S. was performed in 1950. Anti-rejection medication (immunosuppressants) was not developed yet, so it was unsuccessful. In 1954, an attempt with identical twins was
successful as immunosuppressants were not required. This medication wasn't introduced until 1964. Dr. Thomson organized a team including a tissue-type (blood match) specialist, Hildegarde Jaggi from Switzerland, a good surgeon, Alan Downs of Winnipeg, and other specialists, and they performed their first kidney transplant in 1969 at HSC with reasonable success. The success rate is 95-99% today, as technology and medicine continually improve. There are roughly 50 kidney transplants performed in Manitoba each year.

Dr. Thomson dedicated most of his career life helping to improve the lives of those suffering with kidney failure. As an educator and mentor, he proved to be valuable to medical students and graduate doctors, as well. He retired in 1984 but remains active, keeping up on the latest medical technologies and treatments. He makes regular rounds at the hospitals with his long-time friend and first dialysis patient from 35 years ago, Joe Kollar, on a voluntary basis. He likes to confer with doctors and staff who, often, still press him for advice.

Anyone who knows Dr. Thomson will tell you he cared about his patients as human beings, not just as medical challenges. "He was very technically minded, yet he was compassionate and would listen to your ideas and even those of his patients," attests Pat Hill, a dietician who worked with Dr. Thomson since 1963. "His staff would walk through fire for him," she adds.

Joe Kollar remembers his early days of dialyzing 35 years ago under the direction of Dr. Thomson. "He would bring exercise bicycles for the patients at the dialysis unit. And, he would organize picnics and Christmas parties for patients and their
families, with the help of Pat Hill and other staff members," Joe fondly recalls. Dr. Thomson fought for, and was instrumental in setting up, home self-care dialysis for his patients. Joe was one of the first to take advantage of this and he is forever grateful, as it allowed him to have much more
control of his life.

Ash managed a healthy balance with work and family, raising five daughters–two of which are adopted, and two sons with his wife, Muriel. They had married in 1956. Murial had a degree in Arts and Science. She was very artistic and many of her creations permanently decorate the family home, although she has since passed away. Ash was good with his hands and used them to build small wooden toys for boys. He also built small sailboats that would hold three or four people.
He obtained the plans from Great Britain and it was said the boats could withstand the waters of the English Channel. The family often went to their cottage in the Kenora area to sail them, and to go canoeing. Ash had also played some hockey during university and later golfed with colleagues.

Ash joined an organization called People to People International (PTPI). It was founded by Dwight Eisenhower after his term as U.S. President. The purpose of PTPI is "to enhance international understanding and friendship through educational, cultural and humanitarian activities involving the exchange of ideas and experiences directly among peoples of different countries and diverse cultures." Lawyers, doctors and other professionals joined and shared their professional experiences. In return, they got to travel and make new friends worldwide. On Ash's time off work, he and Muriel would travel to places like Beijing, China, Europe, South Africa, and Moscow, on these one to two-month excursions. Once, they were on their way to visit the famous Tiananmen Square, but were turned away. It wasn't until months later that they learned it was because of the infamous riot in 1989.

Thank you, Dr. Thomson, on behalf of all the people you have helped in Manitoba and around the world. You have impacted so many lives. n

(Read more in the Sept. 21/09 issue of Senior Scope)

---