Financial Planning Solutions

Investing for Cash flow
How to Generate Steady, Tax-Friendly Income From Your Portfolio

BRIAN G. KONRAD CFP, Financial Consultant
After a lifetime of hard work, you've arrived. Now that you're retired or fast approaching retirement, it's time to review your financial plan to consider what your future income needs will be. Some of your expenses, like mortgage payments, will likely be lower. Others, like travel or medical expenses, may be higher.

And, if you're like a growing number of Canadians, you're looking to generate capital appreciation and a steady, tax-friendly cash flow from your investment portfolio. How do you get there from here?

Getting there

To identify your cash flow needs, you first need to consider what sort of lifestyle you hope to lead throughout retirement and, based on your financial resources, determine how to reach your goals.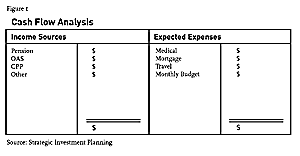 A cash flow analysis is an effective way to gain a clearer understanding of your retirement picture. This analysis includes a review of all income you will receive from various sources such as OAS, CPP, company pension plans, and income you may receive from an investment plan. On the opposite side of the ledger, you will want to review all expected expenses.

The purpose of this analysis is to show the cash flow you will have available to support your retirement lifestyle. See Figure 1.

Your retirement income strategy

Once you have examined your cash flow needs for the future, we will customize an investment strategy targeted at achieving a consistent level of cash flow that will support your lifestyle. Quite often this will entail making adjustments to your current investment portfolio as retirement is a time when investors need to protect their investment assets that have grown over the years. So it is not uncommon to reduce exposure to assets that are geared towards long-term capital growth and shift towards financial products that primarily focus on providing you with income.

So called "safe haven" investments like bonds, mortgages and guaranteed investment certificates have been the product solution to meet cash flow needs since they typically offer the lowest price volatility. But they also typically produce the lowest relative return and can have immediate tax implications. The problem with this tradeoff is that while you may be protecting your capital, you are not adequately protecting your purchasing power which could decline rather rapidly due to the ever present effects of inflation. To support your retirement lifestyle you will likely have to move beyond the relative stability of guaranteed income securities into investments that offer the potential for greater returns and potential tax efficiency.

Balancing your income needs with your risk comfort level can be challenging. That's why one of the more effective methods used to meet cash flow needs is to take a portfolio approach. With this approach we can not only structure a well balanced investment portfolio that meets your cash flow needs, but also give consideration to protecting purchasing power by seeking moderate capital growth.

With a portfolio designed to meet your objectives we can combine investments in such a way that the income flow received is derived from a number of different asset types that produce different types of income.

Investors Group offers a complete selection of dividend funds designed to provide a stable and steady income stream, and considerable capital growth specifically to support individuals in retirement.

Once we have determined your optimal investment portfolio, your investment strategy should give some consideration to how you will withdraw cash flow from your portfolio. Taking a fixed dollar amount at regular intervals is certainly the simplest method, but during periods of market declines it accelerates the draw down of capital and increases the possibility of outliving your nest egg. As long as you are still able to meet your expenses, a slight variation could entail taking out a fixed percentage at regular intervals. This improves the capital preservation capability of your portfolio, as you take less out in down market cycles.

By working together, you and I can appropriately gauge your future cash flow needs and eliminate any complexities in designing and managing your investment portfolio. Through investment alternatives such as the Alto™ Monthly Income Portfolios, Investors Group offers investment planning solutions that are geared for steady cash flow, and can help protect your purchasing power.
__________________

BRIAN G. KONRAD CFP
Financial Consultant
brian.konrad2@investorsgroup.com
(204) 489-4640 ext. 246
100-1345 WAVERLEY STREET
WINNIPEG, MB R3T 5Y6
1-888-205-4828
www.investorsgroup.com/consult/brian.konrad
Stephanie Graham
brian.konrad2@investorsgroup.com
(204) 489-4640 ext. 267

This report specifically written and published by Investors Group is presented as a general source of information only, and is not intended as a solicitation to buy or sell specific investments, nor is it intended to provide legal advice. Prospective investors should review the annual report, simplified prospectus, and annual information form of any fund carefully before making an investment decision. Clients should discuss their situation with their Consultant for advice based on their specific circumstances. Commissions, trailing commissions, management fees and expenses all may be associated with mutual fund investments. Mutual funds are not guaranteed, their values change frequently and past performance may not be repeated.
™Trademark owned by IGM Financial Inc. and licensed to its subsidiary corporations.
"Investing for Cash flow" ©2007 Investors Group Inc. (07/2007) MP1063
(Read more in the Jun 21 -Jul 18/2010 issue of Senior Scope)
---


William J. Thomas
The healing farm in Morris, Manitoba -
How barnyard animals teach people how to live

Ray and Dianne Shaw live on a 25-acre menagerie near Morris, Manitoba which they call a hobby farm. They should refer to it as a healing farm. Their rural homestead, bordered by the infamous Red River became the focus of international media attention recently when a couple of four-footed residents came together to create an improbable family of two.

Sheeba, the baby lamb was born to Moon, the mother sheep, who rejected him almost immediately. Nobody knows why this kind of birth betrayal or maternal disowning happens. But it might explain Russell Crowe.

So Sheeba is suddenly sheepdip out of luck as far as surviving goes when into the barn saunters Sunny, the Shaw's three-year-old golden lab with a disposition that matches her name. Sunny was a mother once herself several years ago, so she knew exactly what to do.

Sunny simply and morphed into the motherhood role. She nudged, licked and snuggled the little black baby lamb until the newborn felt he was alive and loved. And then, in front of the rest of the barnyard crew, Sunny suckled the rejected offspring of the farm's only adult lamb.

Boggling minds that look to science for answers, Sunny produced enough milk to nourish the lamb and allow him to live. Sheeba, the male newborn lamb, so named by a family friend who is not particularly good at gender reckoning is most definitely going to live. Indeed, with Sunny at his side, he's thriving. They romp around the hobby farm together, yellow lab and black lamb garnering very surprised looks from the geese which, as you know, mate for life. (For the record, Ray and I disagreed on the monogamy of geese. He believes they are life partners until death. I believe if geese could afford lawyers, they'd never mate for life.)

Night and day, together the dog and the lamb look a lot like Ebony & Ivory:

Now Sunny has a baby lamb,
Whose fleece is black as coal,
And everywhere that Sunny rocks,
Sheeba's sure to roll.

Moon, the biological mother is going to need an animal ethics lawyer to get her son back now.

"Do you keep sheep for their wool?" I asked Ray, hoping the answer was not 'for meat'!

"No, actually I hate to cut grass," he replied. Ray's an accountant who doesn't waste words or money.

Sheeba is now two months old and fast becoming the size of Sunny, his surrogate mother. Sunny's in for a bit of a bad surprise right about now because according to Ray, the lamb is now "teething". OUCH! Yet, in one more month, Sheeba will be able to take a bottle and after that watering hole.

Past this little miracle of cross-species nurturing, there's a lot more happening on Ray and Dianne Shaw's 25-acre hobby farm along the banks of the Red River. There's that watering hole.

"Funny," said Ray, "but I'll bring in a hen and that chicken has a distinct personality. And then I'll introduce a rooster to the farm and the hen's personality changes. Then I brought a goose here, pretty vicious at first and the rooster protected the hen so that they changed too."

Inside the fence, Ray explained they all get along – the chickens, the geese, the ducks, the ginny hens, the wild turkeys, the sheep, the dog and oh yeah, Holly the donkey. (Think "Babe", the movie, with the animals playing non-speaking roles.)

"We all drink from the same watering hole," said Ray.

"It's very loose, very calm around here with all the animals mingling," added Ray's wife Dianne.

"Holly's the leader of them all," said Ray. The irony of an ass being the leader of this barnyard zoo and the guy in charge of that federal circus in Ottawa was not lost on either of us.

Outside the fence, Ray discovered another level of companionship. He was asked to assemble a little petting display at Morris' annual stampede.

"I thought a few people might drop by, but crowds began to form. You could see the natural joy people felt petting the animals. The humans really let down their guard. The animals couldn't wait to go back to the fair."

One particular kid, Ray described as having a "rotten personality" just melted into a giggling softie as he stroked the rabbit in his lap.

But there's a lot more going on inside the Shaw's fence than meets the eye of even Holly, the lead of this unlikely band of waddling brothers and cackling sisters.

In their 60's, both Ray and Dianne suffer from depression.

"I tried all manner of assistance including those self-help tapes by Tony Robbins," recalls Ray.

But nothing helped bring Ray and Dianne out of their dark moods like the animals around them.

"Just the way they react with each other, just watching them all get along and occasionally help each other … like Sunny and Sheeba … well, it takes the bad stuff away."

And then Ray repeated a line I'd like to hear every delegate to the United Nations recite in unison: "We all drink from the same watering hole."

Ray and Dianne's adventures at animal farm have confirmed what I've been saying for years – that cohabiting with animals strips away the self-importance of people, that caring for our pets replaces our egos with a greater purpose and badly needed humbling. The love we have for our pets is unconditional. The love we have for each other sometimes requires a prenuptial agreement.

Pets, they drive us crazy and they make us better people.
______________________________

William J. Thomas lives in Wainfleet, Ont.
For comments, ideas and copies of The True Story of Wainfleet go to www.williamthomas.ca
(Read more in the Jun 21 -Jul 18/2010 issue of Senior Scope)
---